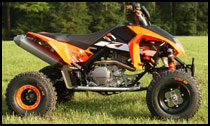 2009 KTM 450SX & 505SX
Buchanan, Michigan (10/13/2008)
-A little less than a year ago the Austrian based company KTM threw themselves headfirst into the high performance ATV market. KTM brought to the table the KTM 450XC and 525XC ATV models. As their namesake might suggest, these quads were designed to dodge trees, and fly through the woods like no production quad has done before. Being a smaller company, KTM has been successful in providing niche models in the two wheeled world that appeal to a narrowly targeted group of riders that the larger OEMs may not deem a profitable venture. Now they have taken this concept to the world of ATV racing.
KTM had no intention of taking things slowly aboard their newly crafted race ready ATVs. The XCs proving grounds would be the 2008 GNCC series with Tim Farr as FRE Team Manager, and Pro ATV Racers #5 Adam McGill along with #7 Taylor Kiser racing the 525XC models in the woods. In what is known as the hardest off road series in the world McGill impressively took home three consecutive wins at rounds two, three and four. Between Team KTM riders Adam McGill, and Taylor Kiser KTM has finished on the podium an impressive eight times thus far this season before heading into the final couple rounds of the season.
KTM's Tim Farr along with Adam Mcgill & Taylor Kiser have secured numerous Podium finishes for the KTM 525XC & 450XC in only its first year of production. Adam McGill has secured 4 Wins in the GNCC Series & the FRE Race Team recently finished 2nd Overall at the famous 12 Hours of Pont de Vaux race in France (Tim Farr Interview)
Fast forward to July 2009, and KTM has hit the drawing board once again to tackle yet another discipline of ATV racing, motocross. Enter the 2009 KTM 450SX and 505SX. With a bold styling, and a claimed dry weight of 363 lbs, this quad was sure to turn some heads.
I have to admit that I was accustomed to the Japanese business model of slightly revising existing products, and releasing them under new names as an "all new model". So naturally, I was visualizing last year's XC model with wider longer A-arms, and some smaller tires. Maybe, if we were lucky some "bold new graphics." What I would come to find out is that this quad is comprised of nearly all new components designed to do one specific task very well, and that task is to win motocross races.
In conjunction with round 10 of the ATV Motocross Nationals, KTM would hold a press introduction, test session and an industry race specifically for the 2009 KTM 450SX & 505SX Models. The test sessions and races were held at the world famous Red Bud motocross facility in Buchanan, Michigan.
KTM invited the ATV Media out to Red Bud MX Park to ride & race their new 450SX & 505SX ATV Models, and they reserved a small motocross track for test riding on Saturday, but on Sunday, the test riders would race on the National track in a special one moto Industry class race
Seven A.M. Saturday morning would find us pulling up to the KTM factory racing rig conveniently parked along the Red Bud starting gate. It was your usual mid summer morning, with a heavy dew on the ground, and a thick fog that blanketed the rolling hills of Redbud MX Park. As we geared up and picked out which quads we would be riding for the weekend I couldn't help feeling like a kid in a candy store, filled with anticipation of getting to ride one of most unique quads ever to hit the market.