Honda TRX 700XX ATV Links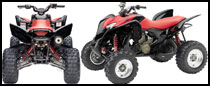 2008 Honda TRX 700XX IRS ATV
Dumont Dunes, CA
– In recent years there has been speculation and anticipation among Honda loyalists as to when their favorite ATV manufacturer would come out with a big bore sport quad. Every year, when it came close to the time for Honda to release their new models, Internet forums would be a blaze with rumors that it would be the year for the manufacturing giant to release a 600-700cc machine. Now, in 2008, those rumors have finally been laid to rest by the release of Honda's TRX 700XX.
Of course we jumped at the opportunity when Honda invited ATVriders.com out to California to test ride their newest addition to the TRX family. Honda wanted the media to test ride their newest creation before its release date in April, but they did not want the test riders to have to deal with inclement riding conditions such as rain, cold, and/or mud, so the location of choice was one with varied terrain that ranged from rugged, rocky, desert trails to sand dunes. We first met up with the Honda crew in Las Vegas, NV and then headed southwest through the desert towards the Dumont Dunes, where we would be putting the TRX 700XX to the test.

Once we arrived at Dumont Dunes, it was time to pick out are TRX 700XX ATV test unit from a lineup of both color combinations with black and red/black units available
The Dumont Dunes are located in south western California on the Southeast edge of Death Valley National Park. Despite the image that the name "Death Valley" draws to mind, the area offers plenty of scenery, especially in the early spring when cacti and desert shrubs bloom in an array of colors, along trails and in the hills that overlook the sand dunes.
The Delmont Dunes in California have a little bit of everything including sand ofcourse with some huge hill climbs, but there is also plenty of riding trails around the dunes with water crossings and plenty of rocks as well.
We have to admit, we would have preferred to take the TRX 700XX out in the woods to see how well it could handle GNCC type of terrain, but the Dumont Dunes proved to be a great place to test the power and handling capabilities of this 686cc machine and offered plenty of diverse terrain to test the capabilities of the TRX 700XX, and the weather was picture perfect for our test ride day, which was Honda's main reasoning for choosing the Dumont Dunes as the test ride location.
Honda TRX 700XX 686cc dry-sump, liquid cooled SOHC four-valve single-cylinder four-stroke engine
The first thing that stands out about Honda's new TRX 700XX is its massive 686cc fuel injected power-plant, which something you would have never expected from Honda just a few years ago, but with the big bore sport ATV market gaining popularity over the past couple of years with the release of Yamaha Raptor 700R, Polaris Outlaw 525, and KTM 525, Honda couldn't resist to enter this new sport ATV segment.