Thundercat 1000 H2 Links
Arctic Cat 700 H1 Links
Arctic Cat 366 ATV Links
Several months ago, Arctic Cat sent us their three new utility ATVs for 2008, the Arctic Cat Thundercat 1000 H2, 700 H1, and 366, and after many hours of trails time, we are finally ready to share our thoughts on these three new units, and I wouldn't be a good gear head if I did not discuss the ATV industries largest big bore ATV, the Thundercat 1000 H2. This high performance sport utility ATV is the big daddy of them all and the first machine everyone wanted to throw a leg over. Sitting on this beast will get you thinking you've possibly climbed aboard something that won't be at home in the tightest of woods, but it is pretty comparable to other large displacement machines on the market.
Arctic Cat - Thundercat 1000 H2 Sport Utility ATV Review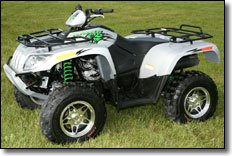 Arctic Cat Thundercat 1000 H2 ATV
A turn of the key and a press of the starter button fires this monster to life as it sounds more like a healthy street bike then an ATV! Now I have been on some pretty stout machines, but slamming the thumb throttle forward for the first time and watching the front cargo rack take off like a jet and keep it up until you decide you have had enough is pretty impressive. The power isn't as abrupt as other high displacement models, but it seems to be a very broad power curve and usable power that seems to never end.
Settling into a cruising speed of between to fast and mach 1, I learned one very important lesson about Thundercat and that is it has inadequate braking especially if you're going to ride it like a mad man! Hey, it's a powerful and large ATV and doesn't stop on a dime at speed especially if you just stomp on the foot brake, but for average riding at speed below 50mph, the brakes worked fine, but we all agreed it would be nice better rear brake stopping power and a right hand brake as well.
We ran into 2 issues on the Thundercat with a bolt falling out of the brake pedal and we had a battery connection issue,and both appeared to be dealer prep related, so always inspect your ATV before riding even when it is brand new
Taking the Thundercat 1000 H2 into the woods with various riders found our first issue, and that was with the foot brake lever. A bolt backed out allowing the pedal to get stuck under the floorboard. This is a dealer prep item and one that probably should have been found in our pre ride inspection further pointing out that no one is perfect. A quick search turned up the bolt and we were back in business.
Putting the Thundercat through its paces were three riders that varied in skill level and two of the riders are equally comfortable on a utility quad as they are a sport quad, so we had a pretty well rounded staff on hand to wring out Thundercat along with the 700 H1 and 366.
The Thundercat 1000 is right at home on wide open trails where you can unleash the beast and grab a handful of throttle
Spike Load Dampener is a drive line clutch system that is designed to slip if the drive line receives a spike in torque from a harsh landing or impact, which could otherwise damage the drive line
With regards to the Thundercat's power, well it has plenty as described earlier. The transmission handles power transfer smoothly, without any of that lugging at low speed that is common on many machines, thanks to its shaft drive configuration. In fact, Arctic Cat describes the hefty CVT tranny's include what they call a "Spike Load Dampener" that allows the "Spike Load dampener" to slip enough to take some of the stress off the driveline when the power of the big V twin engine meets a situation where damage could be done, which is a great feature.