2015 WORCS Racing
Round #5 - Sand Hollow
April 18, 2015
Hurricane, Utah

WORCS Racing Sand Hollow ATV Race Report
David Haagsma Takes Another WORCS Racing Pro ATV Win
WORCS Racing
ATV / SxS Racing Links

Hurricane, UT (4/22/2015) – H&M Motorsports' David Haagsma clinched his second straight WORCS Racing Pro ATV win of the season at Sand Hollow State Park for round five, while Teammate Beau Baron, who is recovering from a shoulder injury, claimed second and Collins Webster rounded out the WORCS Pro ATV podium for a H&M Motorsports Team podium sweep, while Mike Sloan extended his WORCS Pro-am winning streak to five straight.
WORCS Racing Pro ATV Podium (left to right)
Beau Baron (2nd), David Haagsma (1st), Collins Webster (3rd)
2015 WORCS Racing reached the midway point of the season with round five held at Sand Hollow State Park in Hurricane, Utah, which proved to be one of the toughest tracks of the season with plenty of sand and rocks to challenge the racers over the twelve mile long course. Dry weather was on tap, which did cause some dust, but that didn't stop David Haagsma from charging his way to the top of the podium.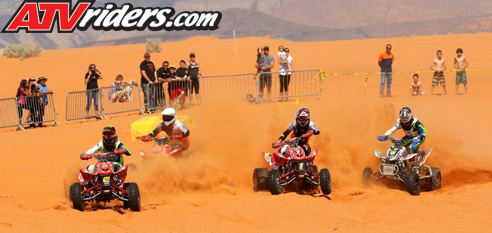 Sparks / Maxxis' David Haagsma grabbed the WORCS Racing Pro ATV Holeshot
H&M Motorsports' David Haagsma grabbed the WORCS Racing Pro ATV holeshot and led the race from start to finish. Beau Baron tried to close the gap on him, but Haagsma was determined to stay out front. "My quad started right away and my Maxxis tires hooked up and I grabbed the holeshot. It feels great to get another win. I have been practicing, and I am really pumped for the next round," said Haagsma.
ELKA's David Haagsma powered through the sand whoops as he quickly pulled away from the field
Haagsma's second straight win also boosted him into the WORCS Racing Pro ATV points lead by one point over his teammate, Beau Baron, but Baron lost the points lead last year at Sand Hollow and came back to win the championship, so it will surely be an exciting points battle in the final four rounds of the season between the teammates.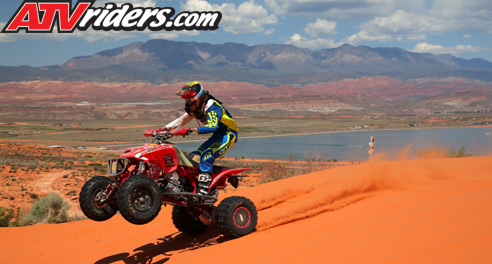 FASST Co's David Haagsma claimed his second straight win to take over the WORCS Racing Pro ATV Points lead