44th Annual 2011 SCORE BAJA 1000 ATV / UTV Race Report
Matlock's 1a Honda 700XX ATV Wins Overall, Brown's 100a 450R Wins Class 24
SCORE BAJA 1000
ATV / UTV Race Links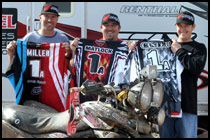 1A Wes Miller, Wayne Matlock, Josh Caster took the overall win at SCORE Baja 1000 in the Pro ATV Class 25

Ensenada, Mexico (11/25/2011) – The 44th Annual 2011 SCORE Baja 1000 desert race kicked off on Friday the 18th of November in Ensenada, Mexico as racers were finalizing their pre run efforts to learn each person's perspective section. As a few of the chase crews rolled into Estero beach on Saturday, a week before, the rain was pouring and it has created what could be the worst conditions for some teams. The weather gods favored the racers for the remaining days leading up to the start and kept conditions great most of the week with just a threat of rain on race day.

Life as a SCORE Baja 1000 ATV racer does not come without challenges and 2011 Baja 1000 ATV race teams were not left out of the surprises that Baja has for each team. To give you just a short perspective on the difficulties faced while attempting such a demanding race, the class 25 1A team of Wayne Matlock blew an engine while testing the race quad. They also found a blown head gasket on the pre-runner belonging to Wes Miller and rider Josh Caster sat alone in the desert for a few hours after the battery in his machine quit working.



The 2011 SCORE Baja 1000 ATV Race made a 692.82 mile loop from Ensenada, Mexico through the desert. The trip would take an average of 22 hours for the Pro ATV Class
The class 24 100A team of Brandon Brown also lost a crank to pre-running the course and totally disassembled their motor along with the transmission for a complete overhaul that ended at 3AM the morning before the race was to start at 6am!! With only a quick 30-second warm up on the engine they left their La Bufadora headquarters and headed to the start. Cudo's to S+S motorsports engine builder and team rider Kenny Sanford for the expert assembly that would eventually give the 100A team a class 24 win.
Chase trucks are essential to bringing home a victory at the Baja 1000. Racers rely on the chase trucks for everything from fuel, to spare parts, & even food for the long race
The start of this legendary race has its challenges as always and as in years past the pre-run cannot begin from Ensenada to Ojos until Wednesday, just two days before the race begins. This keeps the locals happy as it allows them to carry on with their daily commute without getting run down by any racers. The start of the 44th annual SCORE Baja 1000 carved out a plethora of city streets both concrete and pavement road sections along with dirt roads and some trails that most teams found to be very fast and slick.