Northern NE EDT
Championship Event
Hutchinson, MN
September 3, 2016
Northern NE EDT Championship Race Report
Michael Houghton Takes the Pro ATV Win
2016 New East EDT Series
Hutchinson Links

Hutchinson, MN (9/23/2016) - The New East Extreme Dirt Track Series held a special race event in Hutchinson, MN as part of the Northern NE-EDT championship. With a lot of high speed action, the tracking in Hutchinson was intense and competitive and also had option lanes and a joker lane thrown into the mix to add more strategy and to level the competition.

Everyone waits for the high speed action of the Pro Class events and this one wasn't any different. Kris Bures pulled ahead of the line for the holeshot award while the battle for 1st place was neck and neck between Brian Ace, Daryl Rath and Michael Houghton. Brian Ace led the majority of the race but in lap 15 the first place spot was earned by Houghton with Brian Ace in 2nd and Daryl Rath in 3rd.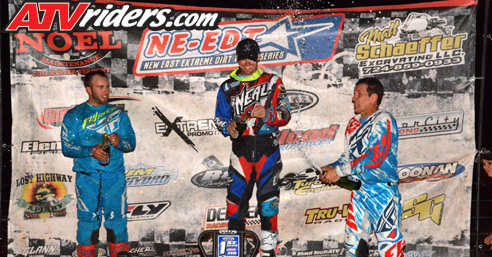 NE-EDT Pro ATV Podium (left to right)
Brian Ace (2nd), Michael Houghton (1st), Daryl Rath (3rd)
The race battles continued and so did the action. Andrew Evanyke off to a great start in the Pro Am class snagging the hole shot award and keeping his 1st place position across the finish line. Just seconds behind him was Brian Ace for another 2nd place finish and Michael Houghton for a 3rd place.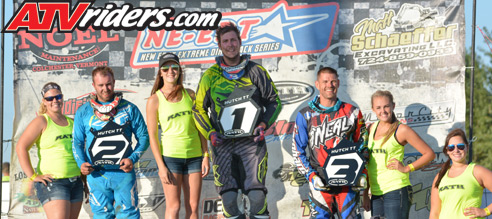 NE-EDT Pro-Am ATV Podium (left to right)
Brian Ace (2nd), Andrew Evanyke (1st), Michael Houghton (3rd)
With one of the larger race classes of the night, the pro lite class was also very action packed. 15 riders all duking it out hungry for that 1st place finish. The dirt was flying from the start when Blaine Stegenga earned the holeshot award where he too kept his 1st place postion until the finish line. Finishing right on Blaines heels was Earnhardt racings Sam Jones in 2nd place and Tyler Butts claiming the 3rd and finals spot on the Pro Lite Podium for the night.

NE-EDT Pro Lites ATV Podium (left to right)
Sam Jones (2nd), Blaine Stegenga (1st), Tyler Butts (3rd)
The NE-EDT Series heads to Hamlin, PA this weekend, September 24th for the season finale