NE EDT Racing - Round 3
Wadesboro Motorsports
Wadesboro, North Carolina
June 11, 2016
NE EDT Racing Round 3 ATV Race Report
Brad Riley Takes Pro ATV Win, Chuckie Creech Wins Pro-Am
2016 New East EDT Round 3
Wadesboro Motorsports Park

Wadesboro, NC (6/15/2016) - The Noel Property Maintenance / Schaeffer Excavating New East Extreme Dirt track series headed back down South for the Element44 / Extreme Promotions round three, which was held in Wadesboro, North Carolina. The red-clay track at Wadesboro Motorsports Park provided the racers with a flat, fast, and sweeping track with no jumps. Lap times were in the 29 second range and Brad Riley was able to take advantage of a great start to take the Pro win followed by Chuckie Creech and Michael Houghton. In the Pro-Am class, Creech was able to turn it around and take the win followed by Kris Bures in and Aaron Medlin.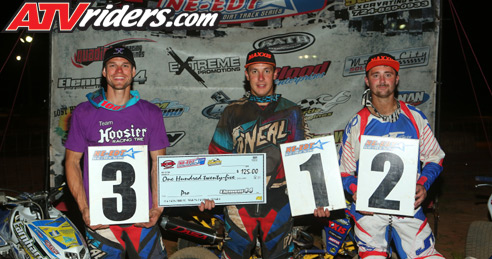 NE-EDT Pro Class Podium (left to right)
Michael Houghton (3rd), Brad Riley (1st), Chuckie Creech (2nd)
MAXXIS / DASA / PEP's Brad Riley was on a mission during the Pro main event as he launched off the line and took the B&B Racing Engines Pro class holeshot award presented by Element44. Once out front, Riley had his sights set on the top of the podium and remained in the number one position for the entire twenty-lap main event. Riley was also suffering from a recent surgical procedure to repair his right ankle and was racing in a medical boot which was fully "modified" with O'neal stickers. The moon boot didn't seem to slow Riley down at all as he crossed the finish line with a sizable gap over the rest of the field.
#27 Brad Riley grabbed the NE-EDT Pro ATV Holeshot
"I've had an extremely rough past couple of weeks and had surgery about two weeks ago to repair my Achilles' tendon. I took a hard hit at the Ironman MX race and snapped it in half and they've got me in this boot now which immobilizes my entire ankle. I knew a win was possible and I knew it would require a holeshot and that's what happened fortunately. I got off to a big lead early and then kind of backed off a bit and made sure I didn't make any mistakes. I'm happy to take the win and be sitting in first place in Pro points as well," said Riley after the race.
#27 Brad Riley held to claim his second straight Pro ATV Win, which he dedicated to his Father, Pnut, who passed away this past week
CCR Racing / MAXXIS / Houser Racing's Chuckie Creech got off to rough start but battled his way past a few racers to get up into second place about a third of the way through the race. Creech was able to maintain this position for the rest of the race and was improving on his position against Riley by slicing away at the gap between them. Unfortunately for Creech, he had ran out of laps before he could make a real run against Riley. Creech now sits in second place in the overall Pro points championship race after round three.
#25 Chuckie Creech scored a 2nd place finish in the Pro ATV class
Earnhardt Racing / Hoosier Tire / The Program's Michael Houghton had a fight on his hands in the Pro main as well coming out of the gate with an upper to midpack start. Houghton fought hard and battled with the one-lined race track to try to better his position and found some luck as he was able to slide into third place before the end of the race. Houghton has been consistent so far this season and is in third place overall in the points chase as well.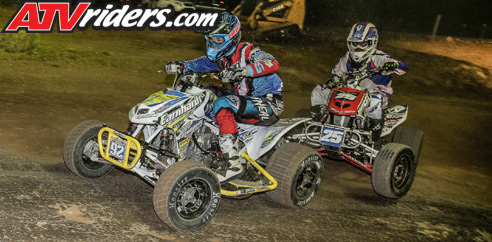 Michael Houghton rounded out the Pro Class podium in third
Tru-Way Racing / PEP / Hoosier / FourWerx Carbon's Kris "Tiffer" Bures had a battle during the Pro main with fellow Tru-Way Racing's Brian Ace. Vechery Racing / MAXXIS / Street Militia's Brian Ace gave it all he had on the tight track and trailed Bures for the remaining laps of the main event and was never able to get past him and had to settle for fifth place with Bures taking home a fourth place ride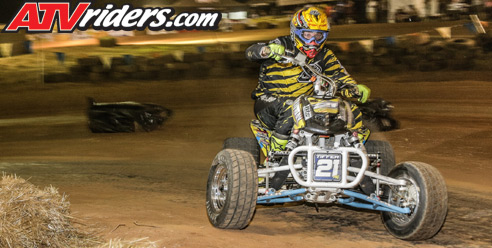 Kris Bures finished 4th in the NE-EDT Pro Class