NE EDT Racing Series
Round 2 - Pine Lake
Ashtabula, Ohio
June 7, 2014
Brian Ace Secures the NE EDT Racing Pro Am Win
NEEDT Racing Report - Round 2
New East Extreme Dirt Track
Round 2 Links

Ashtabula, OH – Round two of the Hellbound Racing New East Extreme Dirt Track series traveled to Ashtabula, Ohio to Pine Lake Track and Trails on Saturday, June 7th. With clear sunny skies, 70 degree weather, and 184 entries the day was set for alot of great racing as some of the country's fastest TT ATV racers were in attendance. The series welcomed another new racer as Pro AMA ATV MX racer, Tim Dettling out of Uniontown, Ohio was in attendance for his first TT race of his career as he entered the series Pro-Am and Pro-lite classes.

The first Pro class was up as twenty of the fastest Pro and amateur riders started lining up in the Pro-am class. The MAXXIS / PEP / DASA TRX450R of Brad Riley was the top qualifier and was followed by Brian Ace aboard his Pocono Power Center / Rage / Rath racing TRX 450R at the line next. As each rider was set to go, and with the $100 Quadified Racing Engines Holeshot award up for grabs, the light turned green and it was the #338 rider Brian Ace putting his TRX 450R over the line first to capture the holeshot and the $100 cash award.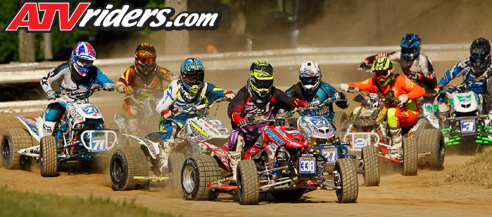 #338 Brian Ace grabbed the Pro-Am Holeshot
He was followed closely by Jordan Rummage, Brad Riley, Nathan Wolff, Kristopher Bures and the rest of the pack through the first lap. With a battle for the number two spot now set,this allowed Ace to put down some of the day's fastest lap times up to this point and gain a comfortable lead as the laps went by to hold down the number one spot. Rummage, Riley, and Wolff now stayed within a tire length of each other waiting for the slightest mistake throughout the race as they started pulling a gap from the rest of the pack.
Brian Ace held off some stiff competition to take the Round 2 Pro-Am Win
As the race entered the latter stages, Aaron Medlin and Michael Houghton Jr. were able to work their way through the crowd as they started their march to the front and fight for fifth place. Round one Pro winner Rummage did not want to give up the second spot and was able to hold it through the white flag being chased closely the entire race by Riley and Wolff. But it would be Riley making a last lap pass to move into second place as they crossed the line at the checkered flag. Brian Ace was the HB NE EDT round two Pro-Am winner as he was able to lead from start to finish aboard his Houser Racing / ESJ / Victory Motorsports' TRX450r, with Riley finishing second, and Rummage getting the final spot on the podium. Nathan Wolff finished in fourth followed by Aaron Medlin rounding out the top 5 riders.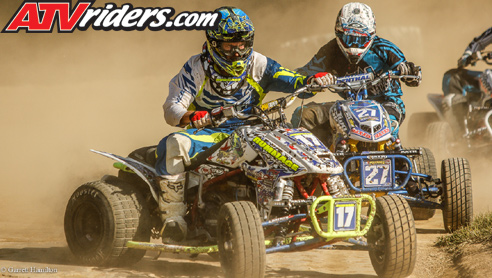 Jordan Rummage finished in the 3rd spot with Brad Riley taking 2nd place
::CONTINUED::