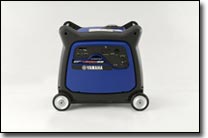 All-New EF4500iSE Generator - Perfect for all your ATV Trips
Cypress, CA (3/5/2008)
- Yamaha Motor Corporation, U.S.A., announces the newest generator model to join their elite, ever-growing lineup: the EF4500iSE.
This model is a mid-size portable generator, the big brother to Yamaha's most popular EF3000iSEB. Perfect for camping and RVing, the EF4500iSE is Yamaha's most powerful inverter generator - capable of running an RV air conditioner, microwave oven and more all at the same time
The EF4500iSE is designed for less noise and better fuel economy. It has the most powerful engine in its class, allowing for very low engine speed of 2,600 rpm - that's 1,000 rpm lower than comparable generators - which reduces fuel consumption, noise, vibration and engine wear.
"The EF4500iSE engine is quiet and fuel-efficient," said Colin Iwasa, power equipment sales manager at Yamaha. "The 357cc Yamaha 4-stroke OHV engine was certified to the most stringent California Air Resources Board Tier III exhaust emission regulations and durability levels."
Thanks to Yamaha's Pulse Width Modulation inverter system, the power generated by the EF4500iSE is suitable to run satellite TV systems, computer and other sophisticated electronic appliances.
"The EF4500iSE provides Rvers with the comforts and pleasures of electricity in a quiet easy-to-use package," said Iwasa. "Electric start and automatic choke makes starting easier than falling out of bed, and if you don't want to get out of bed use the optional wireless remote to start and stop the generator from up to 66 feet away."
In addition, the EF4500iSE boasts features like an easy-to-transport four-wheeled base, a fuel level gauge and an oil warning system to prevent engine damage.
Yamaha's EF4500iSE retails for $3199.00 and will be available for purchase in early April at a local Yamaha generator dealer near you. To find the closest location, visit www.yamaha-motor.com or call 1-800-88-YAMAHA.
About Yamaha:
Yamaha ATVs and SxS vehicles are designed, engineered and built tough! Yamaha Motor Corp., U.S.A. headquarters are located in Cypress, California. For more information on Yamaha, visit yamaha-motor.com.