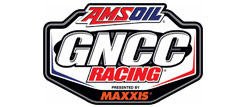 DWT's Jarrod McClure Takes Unadilla GNCC Racing Podium
GNCC Pro ATV Racer Jarrod McClure
New Berlin, NY (9/12/2014) - DWT/ Jarrod McClure Racing's (JMR) rider Jarrod McClure secured his fourth podium finish of the season this past weekend at round ten of the GNCC series at the Unadilla MX track in New Berlin, New York. Jarrod rounded out the XC1 Pro podium finishing third overall for the day, making this his third consecutive podium throughout the previous rounds of racing. JMR teammate Pro Am racer Randy Hamilton came back from a horrible start to claim sixth place in the challenging XC2 Class.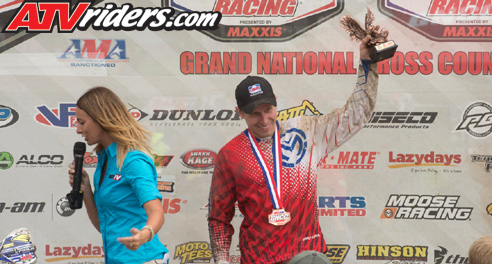 DWT's Jarrod McClure rounded out the GNCC XC1 Pro Podium in third
After a long summer break the GNCC series resumes racing at the infamous Unadilla Pro National MX track in New York to do some cross-country racing. The venue always draws huge numbers of racers and fans. The ATV entries alone were around the 700 mark this year. With limited property the track is usually shorter than your typical GNCC course making for extra laps and possibly one of the roughest course of the series. The large amount of racers, combined with a short track and possibility of thunderstorms made for an exciting day at the Unadilla MX track.
The green flag fell at 1pm and after two months off it was time to see who put in their work over the summer. McClure had a good start heading into the woods just inside the top ten. Jarrod quickly moved into a fifth place position by the second lap, following Mcgill through scoring.
"This new Baldwin motor really helped me on the motocross track out there. You need that horsepower to make passes and once I was able to see Mcgill I was like ok just ride with him. He was setting a great pace as we made our way through the lapped riders", said McClure.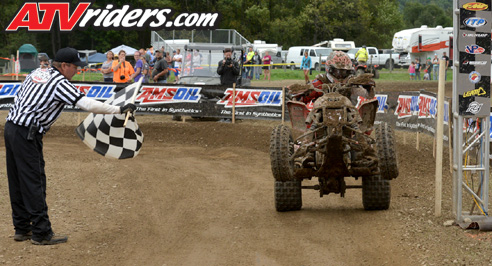 DWT's Jarrod McClure pulls a wheelie through the finish line for third
McClure stayed right with McGill for a majority of the race. The pair of Honda riders had their hands full dealing with lapped riders and a deteriorating track. By the fifth lap Jarrod was able to get around Adam and set his sights on Chris Bithell who was running in third position at the time, and after applying some pressure, McClure snuck by Bithell and was able to cross the checkers in third claiming the final position on the podium.
"I have to say I was really just having a blast out there today. The track was awesome, and it was really fun riding with McGill and Bithell. This is the third year in a row I put it on the box up here and it really means a lot since all my friends and family make the trip. My ATV worked flawless, the DWT tires were hooking all day and the ELKA shocks and Teixeira Suspension components performed awesome on a track this rough", said McClure.
JMR's XC2 Pro Am Racer Randy Hamilton got stuffed in the first corner and had to recover from a near dead last start out of a twenty-rider class. Randy put his head down and was able to break into the top ten quickly, but ran out of time at the checkers settling for sixth in the class for the day.
McClure and Hamilton are both sitting fourth in the point standings after round ten. The JMR team seems just as strong as ever after the summer break and is looking forward to the next Round of GNCC racing at the Mountain Ridge trails in their home state of Pennsylvania.

JMR Racing Team Sponsors
DWT, DWT Tires, JMR, Elka, Teixeira-Tech, HMF, IQ defense, KG power sports, Bowers Motorcycle, Powermadd, Sunstar, Moose Racing, Quad Tech, SSI Decals, Bell Helmets, Precision, DP Brakes, Moto Pro Training, Matto Cycle, Py Racing, Baldwin Motorsports, Bel Ray, ATVriders.com, Impact Solutions, Wiseco, and Santor Design Co.