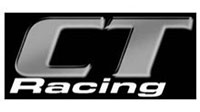 CT Racing Wins Best in the Desert Championship
David Scott & Danny Prather Win Fourth Consecutive BITD Title
BEST IN THE DESERT
Henderson 250 Links
Parker, AZ (12/10/2014) - Reigning Best in the Desert pro quad champions, David Scott and Danny Prather clinched their fourth consecutive series BITD championship at the Henderson 250, the final round of the 2014 BITD season.
Conditions were near perfect for the final round of the 2014 BITD series after rain had fallen recently and limited the normally dusty conditions. There was a little fog early in the morning due to the moisture in the air, but that burned off quickly and clear conditions were on hand for race time.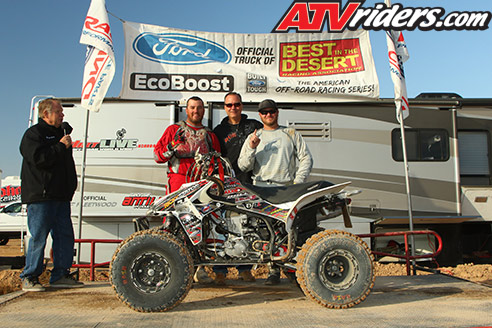 David Scott & Danny Prather celebrate their fourth consecutive Best in the Desert Championship with CT Racing's Allen Knowles
The #Q1 CT Racing team was holding a perfect record going into the final round of the season, winning the first three rounds of the season. The Pro Quad points leaders knew that all they had to do was finish the race in order to wrap up their fourth straight championship, but Danny Prather, who started the race, decided to have a little fun and put on a good show as he battled it out for the lead with the number Q83 team for the entire first lap.
Danny Prather started the CT Racing team early before sun rise
Into the second lap, Prather and Scott decided it was better to race smart and settled into a groove in the number two spot. The team carried the number 2 position all the way to the checkered flag, taking second place but earning their fourth consecutive BITD Pro Quad championship.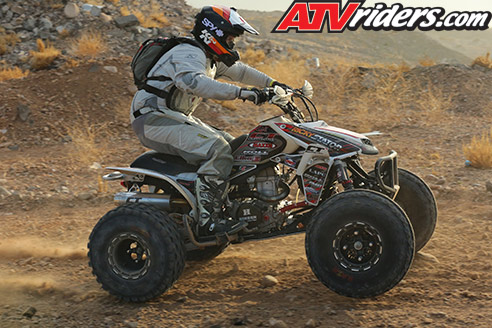 After battling for the lead, the team decided to ride smart and focus on finishing. The team only needed to finish this round to earn the BITD Championship
"We went back and forth a bit with #Q83 in the first lap and it was a lot of fun, but we knew we had to finish to bring home another championship, so after that we settled down a bit and got in a good groove. This is our fourth straight championship, and it would have been great to take the final win and keep a perfect season, but if we kept the pace were going and pushing too hard, there was that risk of not finishing and of course the championship is the most important for us, so we played it safe," said Danny Prather.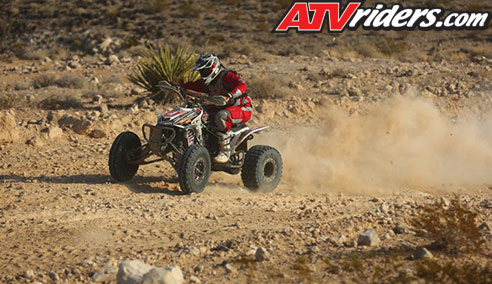 David Scott makes his way through the desert on their CT Racing powered Honda 450R
"We really wanted to go out there and win, but we knew we needed to play it smart, but we still had a little fun out there. The course was really good because there was a little moisture and it kept the dust down. Our CT engine handled the course really well and our Maxxis tires and Tire Balls gave us awesome traction. Everything worked perfect," added David Scott.
"Danny and Dave did a great job out there; that's four championships for them and six for CT Racing. It was great to have two teams out there and do so well. Next season will be even better," said CT Racing's Allen Knowles.
After a short break, the team plans to return to the BITD series for 2015 to defend their title. "This has been a great season for us. We were undefeated until this final round and we couldn't be happier with that. We had a good program in place with CT Racing, Elka and Maxxis tires and we are hoping they can help get us championship number five next season," said David Scott.
The first round of the 2015 BITD series kicks off on January 9-10 in Parker, AZ for the Parker 250 round where CT Racing's David Scott and Danny Prather will be ready to defend their championship.