Kawasaki Prairie 360 4x4 Dependable All-terrain Performer
An all-around contender in the mid-sized category, the 2011 Kawasaki Prairie® 360 4x4 ATV helps you handle business and fun. Whether you're hauling firewood or exploring the wilderness, this capable ATV is a solid choice. Its dependable air-cooled four-stroke single cylinder engine, Kawasaki Automatic Powerdrive System with engine brake control, and variable locking front differential control combine to deliver the power and stability users seek in a practical off-road machine.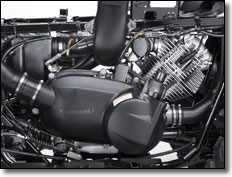 The 362cc engine provides the power for the Prairie to get up to speed & to get you out of any sticky situations by powering the 4x4 system with front diff lock

This reasonably priced ATV features a 362cc engine with a continuously variable transmission with high, low and reverse gears. Its reliable shaft drive requires minimal maintenance. Suspension duties are ably handled by the MacPherson strut front suspension and a preload adjustable rear shock.

If additional traction is needed, the rider can send power to all four wheels at the flip of a switch. A limited-slip front differential helps keep steering light and precise, even in four-wheel drive. In extreme conditions, the rider can use Kawasaki's Variable Front Differential Control lever to send power to both front wheels. Once maximum traction is no longer needed, the rider simply releases the lever — a simple and effective system.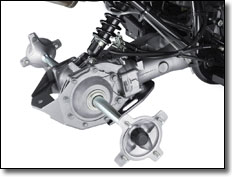 The rear sealed brake will have you spending less time working on the machine & more time hitting the trails or doing chores around the home

Stopping power on the Prairie 360 4x4 is provided by a combination of dual front disc brakes and Kawasaki's sealed, oil-bathed, multi-disc rear brake system. Further speed control is provided by the Kawasaki Engine Brake Control, which uses engine compression and CVT belt pressure to help slow the ATV under certain conditions.

The MacPherson strut front suspension and a single-shock aluminum swingarm rear suspension give the Prairie 360 4x4 a supple ride with 6.7 and 7.1 inches of travel front and rear, respectively. A large, comfortable saddle and full-sized floorboards with adjustable footpegs further maximize rider comfort.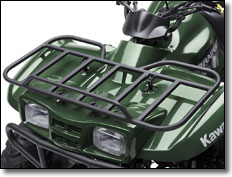 The front & rear racks of the Prairie 360 can hold a combines weight of 242lbs

Its steel front and rear cargo racks can carry a combined weight of 242 pounds. Other conveniences include powerful dual halogen headlights, and a hitch bracket that is standard, permitting the rider to tow 1,100 pounds — the highest towing capacity in its class. Owners can expand the versatility of their Prairie ATV via the extensive line of Authentic Kawasaki Accessories, available through Kawasaki dealers.

As with all off-highway vehicle recreation, Kawasaki encourages ATV riders to ride responsibly and to respect the environment. Kawasaki will pay first-time buyers of a new Kawasaki ATV $100 for completing an ATV rider safety course conducted by the ATV Safety Institute (ASI). Interested consumers can call ASI toll-free at 800-887-2887