Marc Spataro's Moto Pro Training ATV Racer Summer Camp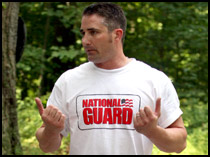 Moto Pro Traing's Marc Spataro

Baltimore, MD (12/17/2008) - This summer I had the opportunity to attend Marc Spataro's Moto Pro Training Summer Camp, which was held near my home in Maryland. Marc has been coaching some of the nation's top ATV and motorcycle pros and he offered a weekend experience to see exactly what his clients are doing to keep ahead of the competition. Marc informed me that this three day camp would cover all aspects of human movement and the things that he would teach everyone could be directly applied to racing and riding.

I arrived at Marc's training facility early Friday morning with my photo gear and work out cloths to find a rather diverse group of guys ranging from pro, pro-am, and amateur racers. With the help of William Yokley National Guard/Yokley Racing, one of Marc's racers, our first activity of the day would be an outdoor obstacle course at the local National Guard facility. A pleasant ride around a beautiful lake dropped us into a wooded valley laden with government warning signs and multiple gates to pass through. After meeting all of the clearance requirements we ventured deeper and further into the woods. Arriving at our final destination, Marc had a tent set up with drinks and snacks and instructed everyone to take a seat in the bleachers for a brief lecture as to why and what we were going to do today. Marc focused on balance, coordination, power, and speed and then it was time for the physical challenges.
Marc Spataro gathered everyone together to discuss the training agenda at the National Guard training facility

This state of the art facility is used by several governmental agencies to train for terrorist attacks as well as basic boot camp for military divisions. The obstacle course contained 15 stations and Marc chose to break the course down into 2 areas of 6 stations to run timed trials through. Three of the challenges were too dangerous to risk someone getting hurt so they were left out of the regimen. These stations would challenge every aspect of human movement especially endurance and strength. Marc let everyone try each station several times in order to let the racers get accustomed to the challenge. After practice Marc grouped the racers into groups of 2 or 3 based on their abilities to perform the task. From here Marc and his assistant Casey would conduct timed trials using stop watches to record everyone's results.

The first challenge had racers run and leap to grab a 4-inch rope and swing up and over a wooden railing only to let go mid swing land on the ground and take off towards an 8 foot wall. This angled obstacle had to be scaled and either slid down or jumped off. Once your feet hit the ground it was back to a sprinting pace towards a cargo net climbing wall. When the racers jumped up on to the cargo net it swung back and forth as they desperately tried to climb up it faster than one another. This caused several of the guys to taste dirt and try again.
| | |
| --- | --- |
| | |
| GNCC Pro ATV Racer, Jeff Pickens testing out the rope swing | GNCC Pro ATV Racer, William Yokley & Ben Hott coming down the Pyramid |
Upon reaching the top there was a furious run down a set of stairs touching down to the ground and taking off in a sprinters pace towards one of the toughest obstacles called the Pyramid. The Pyramid is a torturous obstacle requiring the participants to weave themselves over and under 4"x4" timbers up twenty feet and back down. There was no easy way to do this and several of participants lost there grip and fell to the shredded rubber base below. There were three timed trials that were ran at these six stations.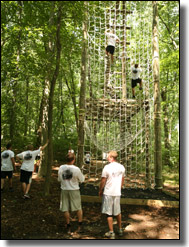 50' Cargo Net Climbing Wall

The second set of obstacles involved a series of balance beams that progressed like stairs until they reached a height of twelve feet. At the end of the balance beam there was a set of monkey bars that contained 3" rungs that went a distance of about 30 feet. Completing the monkey bars after the first course was extremely challenging due to grip fatigue. Most everyone made it through this obstacle to continue on to the rope and wall climb. This station had several 4-inch ropes that were attached to a platform 18 feet in the air on one side and a 50-foot cargo net climbing wall on the other. Participants had their choice as to what they wanted to climb, if they chose the ropes they had to go up them without the assistant of their feet as many times as they could. If they chose the cargo net wall they had to climb all the way up and down one time. These stations were not a timed event but rather for strength and endurance.