Desert Racer Trent Kendall Takes on the Mountaineer Run GNCC
Trent Kendall Races GNCC for the First Time on Adam McGill's Honda 450R ATV

2013 GNCC ATV Racing Links

Masontown, WV (6/27/2013) - I have always wanted to race a GNCC ATV race ever since they've been broadcast by Racer TV on the NBC Sports channel. Watching racers like Chris Borich, Walker Fowler, Chris Bithell, and Adam McGill go through the green trees and muddy hills puts a big dumb grin on my face. As someone who grew up and races in the desert, the stuff shown in the GNCC races might as well be on another planet. I wasn't sure I would ever be able to make it happen due to the 1600+ mile one way trip to get to any of the races not to mention that my 50+ inch wide quad is too wide for most of the races.

Thankfully I heard about a little known racer exchange program. This charitable organization puts needy racers in touch with racing families on the other side of the country. This way you don't have to haul out your ATV, look for a place to stay etc. There are a lot of hoops you gotta jump through and secret handshakes and stuff but its well worth it in the end. First you travel to the Casino Queen, a Riverboat on the Mississippi, knock on door 521 and ask for Stefon...ok not really. This great opportunity started with my sponsorship and relationship with LoneStar Racing in Mesa, AZ. My good friend works there and last year they started sponsoring GNCC Pro Racer Adam McGill who happens to not only be a famous GNCC rider but also my favorite racer.

To make it more confusing my friends name at LoneStar is also named Adam. So Adam and Adam became good friends and we worked out a deal so I could fly back east and use one of Adam McGill's quads at the race and stay with his family.

We chose to do the round 8 of the GNCC series in Masontown, WV because it was the closest to Adams house. GNCC fans already know it turned out to be a great race to see for more reasons than one. On Thursday morning we flew into Pittsburgh which is about 2 hours from the McGill compound in West Virginia. My gear bag weighed in at 49 pounds which is one pound under the regular bag fee limit. I only packed the essentials including my helmet, boots, camelpack, goggles, chest protector etc.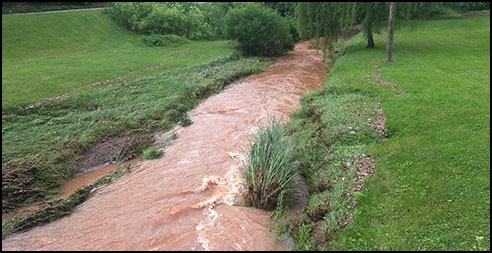 With heavy rains the week prior, Trent Kendall was unable to get any seat time on Adam McGill's Honda 450R before heading to the Mountaineer Run GNCC ATV Race
It had been raining all week in West Virginia and Adam's training course was under water, the creek that runs through the property had spilled over the banks. Even the river in his hometown had flooded over into the street. This was a bummer because I would not get any seat time on my appointed race machine and I was looking forward to checking out Adam's training loop. Apparently it has these things called off camber turns and coming from the desert I'd never seen one before.
I was riding one of Adam's backup national bikes. It's a 2012 RG Honda 450R ATV and it had all the trick parts like the Precision Stabilizer and anti-vibe bar clamps, Baldwin Motor, Custom Axis shocks, LoneStar Racing front and rear suspension, etc, etc. This machine was already essentially sold to another racer so it was clear I needed to avoid the trees and not damage it!