Doug Henline: History of DWT Aluminum Wheels & Company Tour
2009 Sneak Peek: DWT Ultimate G2, Ultimate Rok-out & Diablo Wheels
DWT ATV / SxS Wheel Links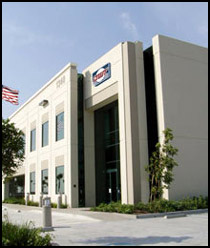 DWT Headquarters is located in Vista California

Vista, CA (2/12/2009) - While there are several companies that offer aftermarket ATV wheels, there are few, if any, that have such an extensive history and dedication to their craft as that of Douglas Wheel Technologies (DWT).

Doug Henline founded Douglas Wheel back in 1991, but his racing roots extend far deeper, with a fascination in racing that began with electric slot car racing back when he was still in grade school. "I had gotten a go-cart shortly before getting my license. I remember begging my parents to take me to the track so I could race," recalled Henline, who won his first championship in 1969. Back then, racing was just for fun, until Doug got his driver's license. "Then I started racing hot and heavy," he said. Due to a lack of quality parts that were available at the time, Henline began making his own exhaust pipes and complete chassis' in his parent's garage for his own personal use. Henline's efforts proved successful. "We won three national championships running the products that I made," said Doug, who was also the Chief engine builder for Ruskin Manufacturing who had him on retainer through high school.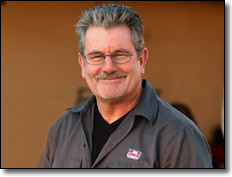 DWT's Founder & President, Doug Henline, has spent nearly his entire life dedicated to racing & it shows in his racing wheel develop
After graduating high school, Doug was offered a full scholarship to become an industrial arts teacher but opted to work with the City of Los Angeles in an apprenticeship to develop his industrial skills, since the idea of teaching just didn't seem to sit well with Henline. "I wanted to make things, not teach people to make things," he said adamantly. It was that drive to create that prompted Henline to start his first company called Pro Line, which he formed shortly after his apprenticeship.
The Pro Line company started out producing racing chassis' and wheels for go carts but soon grew into developing full racing carts and went on to win 40 national championships. "Pro Line is where I got a good understanding of working on different set ups and packages of tires and wheels.
Along the way, Henline hooked up with friend and fellow go-cart enthusiast, Mitchell and began to develop go-cart wheels with him. Unfortunately, Mitchell was paralyzed in a desert accident soon after and was forced to sell his company. Henline saw an opportunity amid the tragedy. "I ended up buying all of the equipment from Mitchell, but I didn't buy his company name," said Doug. It was with the purchase of that equipment that Henline started Douglas Wheel in 1991.

"Wheels were pretty rough back then, so we went in and carved out all of the products that we didn't like. We scrapped a lot, modified a lot, and redesigned a lot of it," said Henline recalling the difficult task of starting the company. It was within that transition period that 4 wheelers were really starting to catch on. Seeing the potential of the sport, Henline and Douglas Wheel got to work and came to market with innovative rims that featured a front and rear beadlock design. "We won the "Innovative Product of The Year" award for our beadlock rims," said Henline proudly.
DWT's ATV & SxS aluminum wheels are just one of many segments for DWT as they also produce wheels for karts , stock cars, sprint cars, off-road buggies, golf carts
A lot has changed over the years since Douglas Wheel put out their first sets of beadlock rims. The company now boasts a new name, which Henline feels is a more accurate description. "Douglas Wheel Technology or DWT," said Doug. "It seems more fitting since we have increased our technology and adapted to the technology that the OEM's are using in their ATV applications."