Pipestone OHV Park ATV Trail Ride Adventure
Montana ATV Adventure Guided Tour in Butte, Montana
Butte, Montana ATV & SxS Links

Butte, Montana - ATVriders.com recently got a chance to spend some time in beautiful "Big Sky Country" of Montana. After doing some exploring at Glacier National Park & Yellow Stone National Park we drove over a little over 3 hours to Butte, Montana to meet up with Richard and Tammy Johnson of Montana ATV Adventures for a guided ride at Pipestone OHV Park.

Pipestone OHV Park is located just 20 minutes from the historic mining town of Butte, Montana. Nicknamed the "Richest Hill on Earth" the city and the surrounding area hold a rich history silver, gold, and granite mines that were established in the late 1800's. During the year 1900 the town of Butte, MT was the largest city west of the Mississippi with immigrates coming to the time from around the world. Today, underground almost a mile down are so many mineshafts and drifts that if you look at a map of the mines it would look like a bunch of honey combs.

There are over 100 miles alone at Pipestone OHV Park, but Montana ATV Adventures also offers guided rides at two other locations around Butte, MT including a riding area near Georgetown, MT and an old mining town of Phillipsburg, MT.

All of the trails that Montana ATV Adventures offer guided rides are well suited for all ages and skill level from beginner to expert.

The Pipestone OHV Trail System is very well taken care of. Each trail is marked with difficulty level and what vehicles are allowed on the trails. Most of the trails are open to horses, mountain bikes, hiking, jeeps, dirtbikes, ATV and SxS models smaller than 50 inches.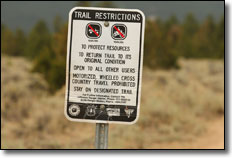 Each trail at Pipestone OHV area is marked with the trail rating & restrictions
The trail system offers a nice mix of trails and there were not a lot of full on flat roads, which was a nice to see. All of the trails at Pipestone OHV Area feature a good variety of switch back turns, rock climbs, hills and nice elevation changes. All though some of the trails we rode on were marked "Most Difficult" they were all safe trails and in a good range of everyone that was riding. If someone did feel out of his or her comfort zone they could put it in four-wheel drive and have no problem getting over any obstacle in the way.

"The Pipestone area has something for everybody no matter if you are 16 or 60 there is a trail you are going to have a ball on on." Said Richard (Lou) Johnson.
Montana ATV Adventures offers 5 to 7 hours of guided ATV tours for $150 which includes everything that is needed for and epic day of ATV riding. They supply everything from the ATV, riding gear, and even lunch. You can also bring your own ATV if you would like.

If you do not own an ATV or do not want to trailer it in, Montana ATV Adventures offers a variety of ATV models to choose from including the Can-Am Outlander two-up 400 ATV and the Suzuki King Quad 400 ATV.