Greenville, TX (4/26/2017) – Can-Am racer Hunter Miller scored a runner-up finish in the XC1 Pro UTV class during the Camp Coker GNCC in Society Hill, SC. Miller's first podium of the season comes at the second UTV race on the 2016 calendar. He is now numerically tied with his brother Cody for second in points.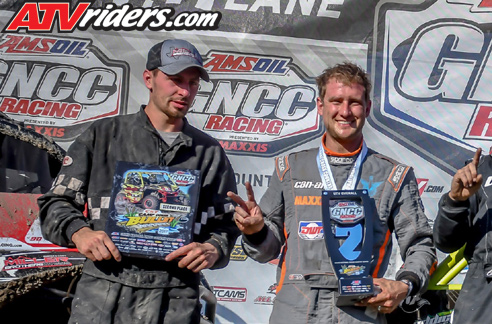 Can-Am's Hunter Miller scored season best 2nd Place finish in the Pro XC1 SXS class at the Camp Coker GNCC
Visibility was poor due to dust, but a good finish in the first race put Miller on the front row for the start. He was quick out of start and held second for most of the race despite the rough and dusty conditions.
"Dust played a huge factor in it," said Miller. "I was battling the whole race, but we could only go as fast as I could see. It all came down to bottlenecks and small mistakes. I thought the track would hold together from the morning racing, but by the time we were on track it was beat. It was whooped out and rutted pretty badly. It just became a survival type track where you had to be careful and protect the equipment."
Miller has a long relationship with Can-Am and his Miller Racing team has the experience and expertise to set up the Maverick right. Proving its abilities, Can-Am's finished first and second here.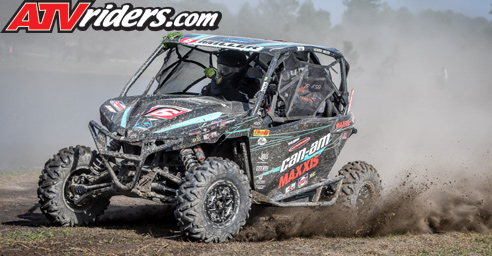 Can-Am's Hunter Miller battled through thick dust from a fourth place start to secure the 2nd spot by the checkered flag
"The Can-Am was awesome, as always," said Miller. "We just have that thing dialed in. We just made a few setup changes to go from the hard packed track to the rough track here. We thrashed the heck out of that thing and it didn't miss a beat. It's a proven platform and Can-Am's going one two on the roughest track of the year proved that."
Miller had difficulties last year in XC2. Stepping up to XC1 this year has shown to be a good step. He finished fourth in the first race, followed by the runner-up finish here. Miller will do his best to stay consistent, finish races and hopefully get a few wins.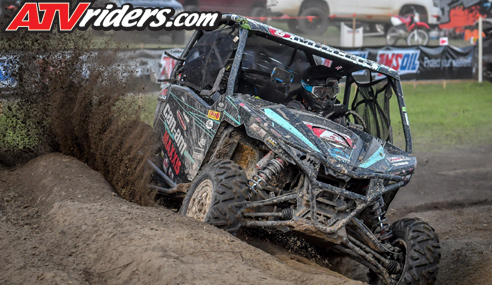 Maxxis' Hunter Miller is now tied to 2nd Place in the points championship with his brother, Cody Miller
"I'm tied with Cody for second which is kind of fitting," said Miller. "It's going to be a close race all year. My main goal is to finish all of the races and not get a DNF. I have to click off a win or two if I want to be in contention. Starting on the front row made a huge difference. As long as I can stay up there and not have any catastrophic mistakes I'll be right up there."
Hard work has been paying off for Miller this year. He has spent countless hours making sure his Can-Am is perfect this year.
"I'm really doing my homework before the rounds," said Miller. "I'm making sure everything is perfect. I know the machine is perfect. I just need to make sure not to make any mistakes driving."
Ever the racer, Miller hopped a plane Sunday morning, and headed to Crafton, Texas for third round of TORN series, where he topped off his weekend with his third straight win in the Can-Am Maverick X3.
Miller will be back in contention when GNCC heads to Sunday Creek Raceway in Millfield, OH for the John Penton. That race is scheduled for May 27-28.
Hunter Miller 2017 sponsors:
Can-Am, DWT, Maxxis, S3 Powersports, SSI Decals, Louis Powersports, HMF Exhaust, Tireballs, Gates, Evolution Motorsports, Factory UTV, Sparco, ELKA, Double E Racing, TiLube, EKS Brand Goggles, DP Brakes