Maxxis / Elka's Joel Hetrick Takes 6th Win at Red Bed
Maxxis / Elka / Liquid Wrench / Honda AMA ATV MX Report
Buchanan, MI (8/1/2016) - Maxxis/Elka/Liquid Wrench/ Honda's Joel Hetrick turned heads at the tenth round of the 2016 AMA ATV Motocross National Championship in Buchanan, MI at RedBud Motocross Park. Hetrick went 2-1 for his sixth overall win of the season, followed by teammate David Haagsma with fifth overall, and amateur rider Grayson Eller taking third overall in both Open B and College 16-24.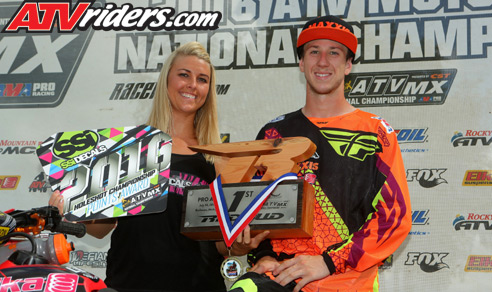 Maxxis/Elka/Liquid Wrench/ Honda's Joel Hetrick went 2-1 for his 6th Overall win of the season at Red Bud
Hetrick's performance was nothing short of impressive, once again. Not only did he clinch the overall win, Hetrick also scored both holeshots. In the first moto, Hetrick was leading by eight seconds on the fifth lap when he made a slight mistake. "I had a little mishap and came off the bike in front of the mechanics area. I lost traction, then caught, and swapped back and forth. It kicked me off and I planted my hand, so I had a little trouble with that the second moto," explained Hetrick.
Hetrick jumped up and got going as quickly as possible again, but was back to third place. He pushed hard and managed to pass for second place on the tenth lap.
DASA Racing's Joel Hetrick held off Chad Wienen to claim his 2nd Holeshot of the weekend in Moto 2
With a fire lit under him from the first moto mistake, Hetrick was absolutely unstoppable in the second moto. He ripped the holeshot and crushed the competition, winning by a ten second gap. "The Maxxis tires hooked up great and the DASA motor pulled off the line for my holeshot, and I never looked back. I was still heated from that first moto spill. I had it in my head I needed to win that race, and I needed to win by a couple seconds to show everyone I could have won the first one as well," said Hetrick.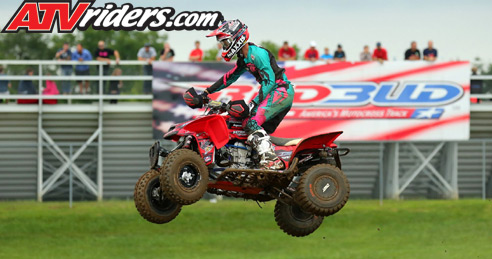 Joel Hetrick ran away with the Moto 2 win, but he remains 22 points out of the ATV MX Pro points lead
Hetrick remains in second place, 22 points below Chad Wienen in the national championship points race. "Anything can still happen with this championship battle. With a DNF from Wienen I could be back up in it. I am just going to race each moto one at a time," said Hetrick.
Maxxis/Elka's David Haagsma also had a phenomenal weekend, taking a top five Pro overall class finish. "First moto I had a battle with Musick and then caught up to John Natalie, but just could not put it together to get around him. He is a great rider and knows the race lines," said Haagsma who took sixth that moto.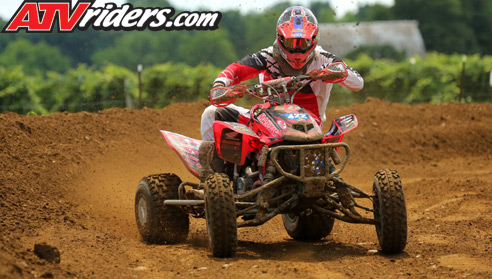 David Haagsma & the rest of the team was running the brand new FLY racing gear at Red Bud MX
In moto two Haagsma was able to redeem himself and make a pass on the very talented John Natalie. "I definitely learned from the first moto, and the second moto I was able to pass him and get to fifth to take fifth place overall," stated Haagsma.
Overall, Haagsma is happy with his weekend and aiming to improve his starts for the next round. "It was a great weekend. I like the track, it gets really gnarly but they do great work here grooming it and it was a lot of fun. I just have to get good starts so I can battle with those front guys. The bike works great, I just have to show everyone what the bike has, and what I have," explained Haagsma.
Roll Design's David Haagsma finished 5th Overall
Amateur rider Grayson Eller took two podium finishes. Eller took third overall in College and Open B, and sixth overall in 450 B.
College is a difficult class filled with many talented riders, including A class racers, but Eller was able to battle with the best of them. "I was put in a pretty difficult division with a lot of fast people and had a bad start where I almost crashed," said Eller.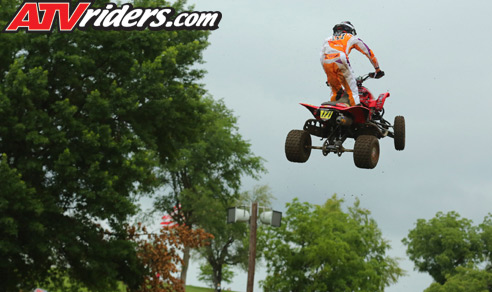 #171 Grayson Eller claimed Podium finishes in Open B & 450 B
Shortly after, another incident with other riders caused Eller to lose even more time. "Already 30 seconds down from everyone else, I pushed through the whole moto." Despite the lost time in the beginning of the moto, Eller managed to work his way all the way up to second place at the finish.
In the second moto of College, Eller took fifth for third overall. " I had another terrible start, but I didn't let it bother me. The track was rough and towards the end everyone got tired, but The Program helped me to keep my stamina and helped me to pass a lot of people," said Eller.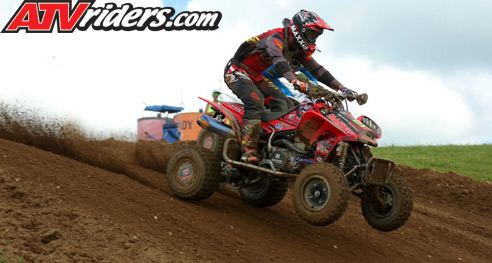 #171 Grayson Eller
Eller's speed is clearly where it needs to be, all that is left now is working on starts, and that is just what Eller plans to do before the next round. "I am pretty excited on the weekend. I still need to put in work on my starts. After I figure that out, I think I will be right up there to fight with Cody Ford, Noah Mickelson, and Logan Stanfield," stated Eller.
The Maxxis/Elka team riders will return to the eleventh round of the series at the historic Loretta Lynn's Ranch in Hurricane Mills, TN August 13-14, where they will be working to claim more wins and podium finishes.
2016 Race Team Sponsors
Maxxis, Liquid Wrench, Elka, Fly, Scott, SSi Decals, DWT, Hinson, Bel Ray, Sunstar, Works Connection, Sandridge Foods, Impact Solutions, Fourwerx, Alpinestar, DC Designs, Precision Racing Products