CST's Beau Baron Clinches WORCS Pro Championship
Beau Baron Scores Two Podium Finishes at Glen Helen WORCS
Atascadero, CA (9/21/2016) - CST Tires' Beau Baron clinched his fifth WORCS Racing Series ATV Pro Championship after finishing second at Glen Helen Raceway. Baron overcame a neck injury sustained earlier in the weekend to record his eighth consecutive podium of the season.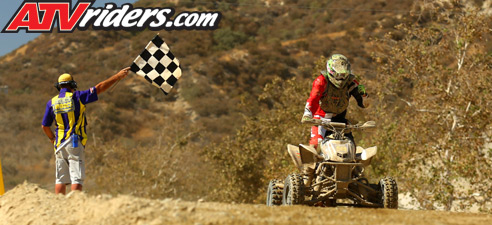 Beau Baron wrapped up the 2016 WORCS Pro ATV Championship with a 2nd Place finish at Glen Helen Raceway
Baron and his CST Honda have now finished on the podium in all eight Pro ATV races this season. Baron won the first five races of 2016.
Beau Baron has finished on the podium at every race in 2016 to secure his 5th WORCS Pro ATV Championship
Baron overcame injuries sustained the WORCS SXS race the day before. Baron cased a jump in that race and crashed hard, injuring his neck. He toughed it out for the ATV race and finished second.
"I hit so hard that it broke the rim and ripped off the whole side of my car," explained Baron of the SxS race. "Instantly I was seeing stars and I got whiplash. So today I couldn't move my neck when I woke up. I tried to get loosened up before the race, but I was having a hell of a time in the race. I got into second and tried to do the best I could to keep my head off my chest protector."
Beau Baron injured his neck during the SxS Pro race on Saturday
Baron was running a new set of CST Tires here. He said the new compound was perfect for Glen Helen's demanding course.
"The CST Tires were awesome," said Baron. "I got some new Pulse HT tires. They're really soft and gummy, and they work well. This was the first time I got use them and they are great. The Curtis Sparks engine ripped right off the start and I can't say enough about Elka, Roll and Tire Blocks."
Beau Baron secured a podium finish in the WORCS Pro Unlimited Class
Baron will finish out his Championship WORCS season as the series heads to Buffalo Bills Resort and Casino in Primm, NV for the season finale October 21-23.
Beau Baron 2016 ATV Sponsors:
CST Tires, Sparks, Elka, Dwt, Tireblocks, Roll Design, Fasst Co., IMS, Hinson, Quad Tech, Maier USA, Maxima, RPM, TCS, Sunstar, Works Connection, Precision Racing, Bolt, Pro Motorsports, LKH Farms, H&M Motorsports, Impact Solutions, Atvriders.com, Gaerne, Shoei, FLY, X Brand Goggles 
Beau Baron 2016 SxS Sponsors:
Polaris, CST Tires, Holz, Sparks,Walker Evans, Tireblocks, Pro Motorsports, Shoei, X Brand Goggles, Atvriders.com, H&M Motorsports, Paso Polaris