Saint Croix Falls, WI (9/8/2016) – Bikeman Performance / rOtation Motorsports drivers Treavis Poynter, Jason Luburgh, Andy Ives, Zach Szymik, Jordy Reed, and Matt Schuette finished off the inaugural TORC UTV Series at Crandon International Off-Road Raceway with a bang. Poynter won the Pro Mod UTV title with a second-place finish. Luburgh was involved in an incident with CJ Greaves, ending his quest for the title, while leading in the Pro Stock race which left him second in the championship points.
Poynter added a third runner-up finish to his tally this year. He also won one race this season.
Bikeman / rOtation Motorsports' Treavis Poynter scored a 2nd place finish at Crandon, which secured the first ever TORC Pro Mod UTV Championship
"We went in hoping to have a nice clean race," said Poynter. "There were quite a few more people at this round, so I took it easy at the start to try to avoid getting tangled up. The whole experience was amazing. I grew up watching Crandon and always wanted to come here. To wrap up a championship is huge, but to do it here is a once-in-a-lifetime opportunity. Bikeman gave me the equipment I needed this year to win this title."
Luburgh dominated Pro Stock this season, earning three victories and a runner-up finish. Unfortunately, the final weekend in Crandon didn't treat him so well.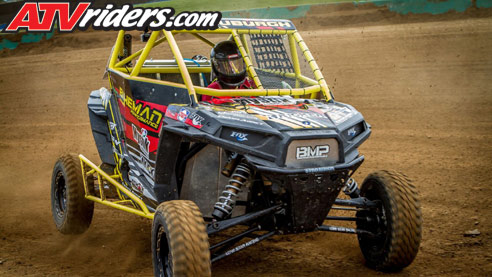 Bikeman / rOtation Motorsports' Jason Luburgh was taken out in the Main event, which dropped him to 2nd Place in the Championship race for the Pro Stock UTV class
"The season was great overall," said Luburgh. "Our team came together and we have a great plan for next year. We're really excited about TORC next year. It was just a rough last race. This was just hard to swallow," said Luburgh. "It's an unfortunate way to finish off a great season."
Bikeman team driver, Andy Ives, concluded the weekend with a 3rd place finish in the Red Bull Cup. "I had a really good weekend. Bikeman had my Turbo running like a rocket ship and I really enjoyed driving that course. In the Red Bull Cup, I kept fighting and was able to pick off other cars one by one ending up 3rd and I couldn't be happier."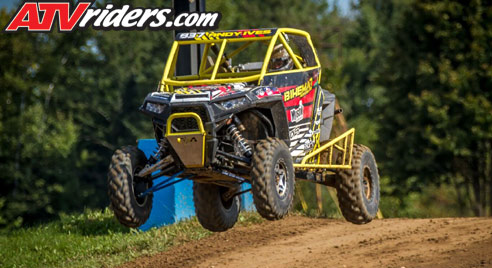 Bikeman Performance's Andy Ives finished on the podium in the Red Bull Cup on Sunday
Other team drivers, Zach Szymik, racing Pro Stock, ended up with a rough start on Saturday but was able to climb his way back to 7th leaving him on the podium, for 3rd in points for the season.
Bikeman Performance's Zach Szymik finished 3rd in points for the TORC season
Matt Schuette, ending up 2nd in points for the year, took 4th in the final round of the TORC Series.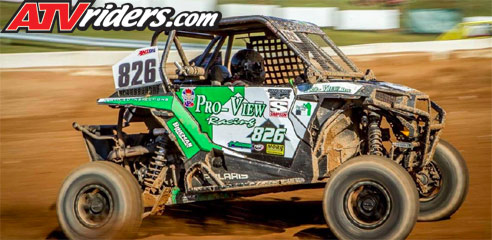 Bikeman Performance's Matt Schuette finished 2nd in the Points
'The team didn't get away without any carnage. Jordy Reed was battling on the back stretch when his car came in contact with another causing him to barrel roll, destroying his Polaris RZR. "It was gnarly. One second I was full throttle going off a jump and the next I felt like I was the laundry in the dryer.. Thankfully, my safety equipment held up nicely and nobody got hurt."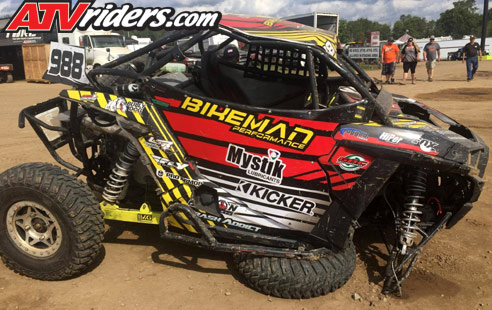 Bikeman Performance's Jordy Reed
Bikeman Performance owner Jimmy Krantz said to win one championship and finish second in another is a huge accomplishment for Bikeman Performance / rOtation Motorsports.
"It took a lot of work this year," said Krantz. "The turbo is hard to keep cool and we had to work all year on cooling issues. On the final weekend, we finally got it working perfectly. Treavis was pretty pumped and he should be. Jason's car was running perfectly on Saturday. It was hauling and it was unfortunate that it ended the way it did. Things are really going to be good next year. It's going to be so interesting."
Look for Bikeman Performance / rOtation Motorsports to be racing the full TORC series in 2017.