Moab, UT (9/4/2014) -When Kevin, the owner of Red Dot Engineering in Moab, Utah bought his new RZR 1000 he was impressed with the speed, agility and rock crawling capabilities that it had right out of the box.  Kevin being one of those guys that is always thinking of a way to make a machine perform to a higher level went to work to build the best rock crawling RZR to ever hit the famous trails of Moab, UT.
The long travel kit from HCR with King Shocks was the first step in the build, followed by a custom roll cage, aluminum roof and front bumper, all built by Red Dot Engineering. Next came a long list of billet aluminum parts built by Mod Quad that really dressed the RZR up. Kevin contacted the guys at Tiger Lights for their led light bars and Tribal Whips for their lightweight rear light bar. Master Craft Safety worked with Kevin to supply seats and five point harnesses to keep the driver and passenger safe and comfortable inside the cockpit.
Highpoint Off-Road Racing & Red Dot Engineering Polaris RZR XP 1000 Rock Crawler with 42 inch Pitbull Tires
After a few hot laps around the Red Dot Engineering shop, and a quick trip to Area BFE, Kevin noticed that the stock plastic fenders were showing signs of wear and offered no protection to the expensive painted plastic body panels in the event of a roll over or rubbing against a rock while crawling through the obstacles found on some of the tougher trails. Red Dot Engineering solved the problem by building a set of lightweight metal fenders with support legs that bolt to the frame for side impact protection. They then built a rocker panel slider tube that ties the fenders together offering even more strength and protection. The design of the fenders opens up the wheel well making it easy to install larger tires.
With the new fenders in place, it became obvious that this RZR needed bigger tires. But how big can you go and still have a functioning RZR?
That's where High Point Off-Road Racing came into the picture. We decided to conduct a small experiment and contacted Pitbull Tires and Raceline Wheels. As the tire and wheel sponsors of High Point Off-Road Racing, these guys have always set us up for success.  We ordered in a set of ridiculously large Pitbull Rockers, 42x15.0-15LTs (to be exact) and a set of the Raceline 15 inch beadlocks.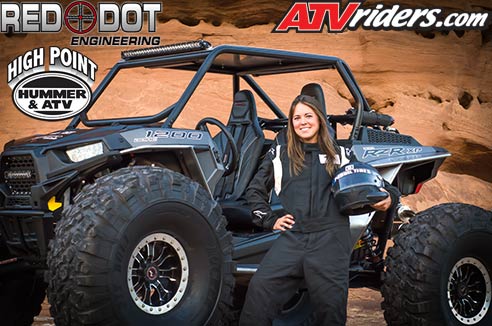 Tiara Hunter a member of the Highpoint Off-road Racing team
Finally, it was time to test the RZR and see if it would hold up to the crazy new modifications. Kevin jumped in the driver seat and started climbing over obstacles. It didn't take long to see that the monster sized tires cleared at full stuff and full turn. How about power? Kevin hammered down in the concrete parking lot and started doing doughnuts! We were all amazed to see that the motor had enough power and the stock Polaris transmission and drive train were strong enough to handle the abuse, even though they were being pushed far beyond the Polaris engineers intended design.
Highpoint Off-Road Racing & Red Dot Engineering Polaris RZR XP 1000 on the Moab Rim trail in Moab, UT
How would the RZR on 42s handle real trail conditions was the next question on our list.  We jumped in, buckled up, and drove down the street to the Moab Rim to find out.  As you would imagine, the massive tires rolled over every obstacle with no delay, and again, much to our surprise, the stock drive train held up as well! Kudos to Polaris for building a great stock machine!
After the pictures went out, a lot of you asked about the RZR 1200 decal on the hood.  All we can say right now is that Polaris does not build a 1200cc and as far as we know, doesn't have one in the works. But that doesn't mean that a 1200cc aftermarket kit doesn't exist. Check out Part 2 where we will talk about the other modifications we made to the RZR Crawler.
Highpoint Off-Road Racing & Red Dot Engineering
Polaris RZR XP 1000 Rock Crawler Build Specs

Base Vehicle
2014 Polaris RZR XP 1000
Cage

Red Dot Engineering 4130

.090 Wall
Aluminum Roof

Red Dot Engineering

Front Bumper

Red Dot Engineering 4130

.090 Wall
Light Weight Metal Fenders

Red Dot Engineering 4130

Long Travel Suspension
HCR4 inch Kit
Shocks
King Shocks 2.5 Internal Bypass
Exhaust
Muzzys
Engine
Muzzys 1132 Billet Big Bore Kit
Billet Accessories
Mod Quad - Speedo Cover, Shift Knob, T-Bar, Front Grill, Fire Extinguisher Mount, Shock Reservoir Mounts
LED Lights
Tiger Lights
Read LED Lights
Tribal Whips
Seats

Master Craft Safety

Harnesses
Master Craft Safety
Tires
Pitbull Tires 42x15.0-15
Wheels
Raceline Wheels 15 Inch Beadlocks