Interview: Josh Frederick - 2007 WORCS Pro ATV Champion

Josh Frederick - 10 Quick Facts

Birth Date:
04/08/1978
Weight:
165lbs
Hometown:
Moapa, Nevada
1st ATC/ATV:
Yamaha 200
Started Racing:
18 Years Old
Thumb/Twist:
Thumb
ATV:
CanAm DS450
Occupation:
Heavy Machine
Hobbies:
Hunting & Fishing
Website:
joshfrederick.com
Epic/Can-Am's Josh Frederick came on strong in the 2007 World Off Road Championship Series (WORCS) claiming an impressive six 1st place finishes, which was enough to secure him his first Pro ATV WORCS Championship after only the ninth round of the ten race series.
Josh Frederick raced his first Pro WORCS race in 2003. It was only one race, but it was enough to bring him back for the entire 2004 season on the #44 YFZ450 in hopes of securing a championship. The WORCS newcomer gave it all he had and ended up securing an impressive second place overall in 2004 earning himself and his quad the race number "2". Frederick trained hard over the off season and when he returned in 2005, he was even faster, giving Doug Eichner quite a run for his money for the 2005 championship, but finished out the season once again in second place.
In 2006 traded his YFZ450 for a Honda TRX450R, and once again Josh finished out the season in the runners-up position behind Eichner. What many at the time did not know was that Frederick had signed on with Can-Am mid-season and secretly began doing testing on the surreptitious Can-Am DS450, which he finally debuted in 2007 at round seven of WORCS series and piloted the machine to its first win during its introductory race.
Now Frederick has taken it a step further and has secured his and the DS450's first Pro Championship. ATVriders.com got a change to chat with Josh after round 9 of the WORCS series at Pismo Beach about claiming his first WORCS championship and what his plans are for the upcoming 2008 season.
| | |
| --- | --- |
| | |
| Josh Frederick in 2005 on Temecula Motorsports YFZ450 | Josh Frederick started out the 2007 season on a Epic Honda 450R |
ATVriders.com: Josh, you may not have won the race today, but you wrapped up the championship before the series has even concluded. How does that make you feel?
It feels great! I've been working hard the last couple of years and finally got it. Doug (Eichner) and I have battled back and forth all year, and I've worked really hard and made a lot of sacrifices to get where I am today.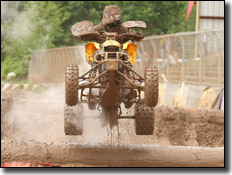 Josh Frederick won on the CanAm DS450 in its racing premiere at Round 7 of the WORCS Series
You've been chasing after Doug for a couple years now, so this must really mean a lot to you.
Yes, it means a lot. I think any championship that you work hard at and pull it off means a lot. It also means a lot because Doug is such a great competitor and he's been doing it for so long and has so many championships. Just to know that I am up there with him really means a lot to me.
What has been your most memorable race of the 2007 season?
Well, I've had some good wins…the first win on the Can-Am was definitely a memorable one because it was so big for them.
You ran into a few bugs at Pismo Beach with the Can-Am DS450. What happened?
Two hours in the sand is hard on any bike. I kept overheating it in the back section of the track. I tried to milk it and bring it back in to finish. I almost made it! The last lap it quit. I think the heat sensor went out on it. We still have some bugs to work out and we have a couple months to work them out before next season so we can come out swinging.
What was it like racing out here in the sand?
I hate sand to tell you the truth (laughs). Doug is a great sand rider, as he showed today. He whooped us all! I came out and was just riding an easy pace. I was in third, then second. I was happy with the way I rode, but at the end of the day, it didn't turn out so good.
Josh Frederick at Pismo Beach on his way to the his first Pro ATV WORCS Championship
Was it hard for you to make the transition from riding a TRX450 to the DS450?
Yeah, a little bit. It's different power. I'm used to more grunt from the Honda and then when you get on the DS it's smoother power. It took me a little bit to get used to that but as far as everything else, it was fairly easy to adapt.
::CONTINUED::