Interview: Bill Ballance - 8 Time GNCC Pro ATV Champion - Continued

Do you think that some of these younger riders are faster but they just lack the experience to consistently pick the right lines?
I think a lot of that is true. I think a lot of the new riders get into a panic mode when they get a bad start and they try to make it happen all on the first lap and wind up making more mistakes that ends up costing them in the long run.
| | |
| --- | --- |
| | |
| In 2002, Bill Ballance grabs the Holeshot at the Ironman and battled with long time rival William Yokley to the finish line | In 2003, Bill Ballance headed to the line for the last time on his 250R at the Ironman with Barry Hawk by his side. |
How has the competition changed from when you won your first championship until now with winning your eighth championship?
It's hard to come up with the words to even describe it…the competition level is just insane! You've got McGill, Bithell, Borich, Jenks and Yokley that are every bit as fast on the track as I feel I am. It gets pretty crazy at times. When I first started racing there were only one or two guys you really had to worry about, but now you really do need to get a good start because if any of those guys get out in front of you, you have to really play your cards right to even hope to catch up to them before the end of the race.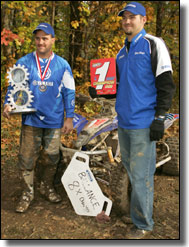 Bill Ballance and his Mechanic Elliot Skagss
Another big thing is that now there is money on the line and there is a lot of big support from the factories in the sport. What do you think about that?
I think it's very good for the sport. It's making the competition levels higher. There are riders that are able to make a career out of it now and they are able to train all the time, which is something that wasn't the case when I first started racing. There is also a lot more on the line, which makes everyone try harder and do everything in their power to cross the finish line first.
How important was it for you to win the final round of the season when you really didn't have to, to secure the championship?
Before the race started it really wasn't that important at all. I had it in my mind that I needed to play it smart. I went out to the starting line thinking that all I wanted to do was get a good start. Once I got out there, I was relaxed and just riding, and before I knew it, I was in front and things were just clicking and everything went smooth. It was more of a learning experience for me because it wasn't so intense and I was more relaxed and just going with it.
The 8th Championship was the most difficult for Bill Ballance as Chris Borich challenged him the entire season, and the pair each won six races, but two bad races for Borich provided Ballance some breathing room heading into the final round of the season, but once again the "Killer B's" were battling for the lead for several laps
You and Chris Borich were wheel to wheel for three laps. How was it battling back and forth with him?
It was a lot of fun. I always enjoy racing with Chris. We've had our controversies but anytime you are able to get out here and race with someone like him it's great.
After all the controversy that surrounded the last race in Ohio when Chris followed the spectators and took that other line and got in front of you, did any of that concern you going into this last race?
No, not really. There were a few people that tried to fill me on everything that was being said about that incident, but I tried to stay away from it. What's done is done, I just wanted to move on to this race like nothing ever happened and leave all the trash talking behind.
When the incident did happen, and you came through the checkered flag, did you even know that Chris was in front of you?
No, I thought that maybe he got hung up back with some lappers or had bike problems because there were a few times that he was pretty close to me and towards the end we got into some of the dusty fields and it was hard to ride close to each other. I remember I looked back and didn't see him and when I came across the finish line I was surprised to see him sitting there with his helmet already off. I was wondering what had happened.

Unlike many forms of off-road racing, GNCC Spectators are a allowed to assist racers during the race, and there participation has salvaged many racers from some nasty situations, but unfortunately, there participation has also provided negative consequences by pointing racers in the wrong direction or into bottomless mud pits, which have ruined the day of many racers as well
Have you had spectators try to direct you while you're racing and if so, how does that affect you when you're out there?
I've had it happen to me and it's really gotten to be a big issue. This year I really noticed it a lot more. I think it's something that is really going to have to be looked at with Racer Productions. There have been times when you come to a corner and there are spectators standing in the faster line, and you don't want to hit them so you go around, and as soon as you get around them, they get out of the way and let the guy they are routing for take the line.
How exciting has it been for you this year being in such a close points battle with Chris Borich for a good part of the season?
It's been really exciting and really nerve racking! It just goes to show much Chris has stepped it up this year and gotten better as a rider.