Interview: Bill Ballance - 8 Time GNCC Pro ATV Champion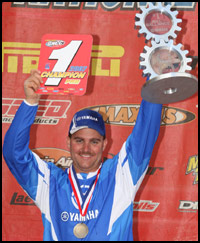 #1 Bill Ballance - Quick Facts

Birth Date:
8/26/1976
Weight:
170lbs
Hometown:
Smith's Grove, KY
ATV:
Yamaha YFZ450
Occupation:
ATV Pro Racer
Hobby:
Hunting & Fishing
Yamaha's Bill Ballance made history at the 2007 Can-Am GNCC in Indiana by winning his eighth consecutive Pro Championship. Ballance pulled off five wins and managed a podium finish at every race for the 2007 season. A close points battle with Chris Borich didn't deter the champion one bit either, it only seemed to fuel the fire for Ballance who appeared to push even harder under the pressure.
Adding to that already existing pressure from Borich, this past season was filled with controversy for Bill, but he didn't allow it to get the better of him or let it get in the way of his goal for the championship. In fact, Bill showed us what it means to be a true competitor and a true champion on and off the track by just rolling with the punches. Bill's professionalism and positive attitude through it all only adds to the admiration and respect he has earned through the years in this sport.
We had the opportunity to speak candidly with Bill shortly after winning the championship. Bill cleared the air for us about the controversial frame changes that were made to his bike during the season, what really happened out on the track in Ohio with Chris Borich, and what his future plans are in the racing industry.

ATVriders.com: What were your thoughts going into the 2007 season with seven championships already under your belt?
I put a lot more pressure on myself this year than I probably ever have. I knew that I had the opportunity to win eight. The competition was stiffer than it had ever been, and I knew that I had to be on top of my game to make it happen. I put a lot of pressure on myself and trained harder than I ever have and focused a lot on bike setup.
There was a big controversy about your frame at the beginning of the season when you changed the a-arm pivot point, which was done according to the rules. How did that controversy affect you?
I caught a lot of flack from a lot of people about that, and I was really just the middleman in all of that.
Altered Frame

Stock Frame

For testing purposes, Bill Ballance altered the YFZ450 frame and moved the two lower frame rails together, which changed the A-Arms pivot point
What was Yamaha's reasoning behind changing your frame?
We had been testing a lot of new products all year and Yamaha wanted to do some testing with the pivot point on the A-arms and they felt that the only way they could truly test the change was to race with it. Honda was already making changes to the rear end of the 450r and testing it on the track, so Yamaha's outlook was that if Honda is already doing this then we can do some testing of our own.
Did the frame modifications make a difference in your performance on the track?
You can go back and look at the results and see that I won the same amount of races on the changed frame as I did on the OEM frame, so I think it was pretty much a wash.
So you stopped running the altered frame midway through the season?
It was a lot of work to tear down all the bikes, do the alterations, and then put them all back together again. After the break we went back to running the OEM frame.
Bill Ballance kicked off the 2007 GNCC season with wins in Florida & Georgia
So the changes to your frame were basically part of a bigger picture to allow Yamaha to make improvements on future models for their customers?
It was a way for Yamaha to do first hand testing on the track to better their product for future customers. It wasn't an attempt for me to make any gains on the track. A lot of people didn't see it as that and they thought we were putting together a "cheater" frame and that Racer Productions was playing along and letting me enhance my bike which really wasn't the case.
Do you think that all of that testing helped or was it a hindrance?
If I had to look back on it I would say that it hurt me more than it helped me because there were some things we tested that were good and some things we tested that weren't as good. There were times I would show up at the race and I would have new suspension that I only had 2-3 hours of testing on, and we were trying different stuff from race to race.
Bill Ballance finished on the Podium every single race of the season with of a total of six overall wins
Despite all of the changes and testing that you went through with your bike all season, you still managed to consistently have a podium finish. How did you manage to do that?
Basically when we go to a race with a new bike or new product, we do as much testing before hand as possible so that I am familiar with what the bike is going to do. I also train hard and I am dedicated to doing the best that I can at every race. I think all of my years racing and my experience on the track helps a lot. I think it all boils down to no matter what your riding, your experience and knowledge of what to do is the biggest factor.