2011 Polaris Sportsman 400 HO
Utility ATV Links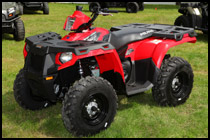 2011 Polaris Sportsman 400 HO Utility ATV
Montana -
The Sportsman Utility ATV model lineup from Polaris has long been an award winning line of ATVs. For 2011 Polaris has made significant changes to the entire line of Sportsman ATV's. One of the most significant changes was return of the popular Sportsman 400 to a full size chassis. The full size Sportsman 400 receives the same updated chassis as the rest of the sportsman lineup but at a much lower value price.
ATVriders.com had the opportunity to test ride several of the updated ATV and SxS models in Montana at Bull Run Dude Ranch. The 13,000 acre ranch has a unique operation because the dude ranch and hunting operation is owned by a group of off-road enthusiasts that also use this scenic and challenging property as their private riding park. With endless miles of trails, Bulls Run was the perfect place for Polaris to showcase their 2011 ATV and SxS model line-up including the updated Sportsman 400.

At the forefront of the Polaris Sportsman 400 is new redesigned front end styling that provides a smaller appearance and improved sight line performance for the rider. The smaller feel of the Sportsman's is immediately noticeable while trail riding you feel more connected to the terrain you are traversing.
Even though the Polaris Sportsman 400 HO is built on the full size chassis the new aggessive styling gives the ATV a small and nible look
At the Bull Run facility there are endless rock strewn elevation changes and this new smaller feel and better site line helped us keep the Sportsman 400 HO under control at speed. The radiator has been relocated up higher in the chassis and angled back to give it better protection from mud and debris. I could see how better radiator protection was needed while following other ATVs through the trails. I could see a lot of debris being kicked up by riders ahead could have caused a lot of damage.
Bull Run Facility in Millville, MN has many scenic views including beautiful creek crossings, long mountin ranges, and open grass fields