2011 Polaris Sportsman 400 HO Utility ATV Test Ride Review
::Continued::
Suspension & Brakes>> Continued
The IRS rear suspension on the Sportsman allows for 11.25 inches of ground clearance. While traversing deep rock strewn river crossings at Bull Run the advantages of the IRS and high ground clearance were evident, not once did get hung up or have fear of getting stuck. On the trails the rear suspension does a good job absorbing impacts from rocks and roots all while maintaining a stable chassis.
| | |
| --- | --- |
| | |
| The Independent Rear Suspenion gives the Polaris Sportsman a very plush ride on the trail and in open fields | The Polaris Sportsman 400 HO features a single lever linked brake system that applies brakes to all four wheels |
Polaris outfitted the Sportsman 400 HO with a single lever linked brake system. The linked brakes produce four wheel stopping power with only one lever. The Linked braking system comes in handy in tight conditoins and is simple but very effective. There is also a separate hydraulic rear foot brake in case the situation arises that requires a rear only brake application.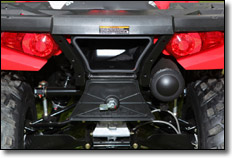 The Polaris Sportsman 400 HO features a convenient cargo box located in the rear of the ATV that can safely stow away your personal belongings
While the entry Sportsman line of ATV's are a lot of fun on the trails they are also designed and intended to be very capable of doing work at the same time. The sportsman 400 HO is equipped with Polaris's patented Lock and Ride system on both the front and rear rack system. The front rack has an optional locking cargo box.
The front rack has the capability of carrying 80lbs while the rear rack can handle 180lbs. Towing capacity on the Sportsman 400 HO is rated at 1225 lbs. With all the available Pure Polaris Lock and Ride accessories and the built in capability the Sportsman 400 HO is at home and very capable at work or play.
The Polaris Sportsman 400 HO is very capable of work and play all of which can be done on this budget priced entry level Utility ATV
We are confident that Polaris 2011 Sportsman 400 HO will prove to be a top performer in it class. The 455cc engine has plenty of power for both work and play. The chassis and suspension is on par with other units in its class. The extensive accessory options from Pure Polaris allow the consumer to personalize the Sportsman with just about any optional equipment you can think of. It is hard to believe all this form and function is available on a budget priced entry level ATV

www.polarisindustries.com
2100 Highway 55
Medina, MN 55340
(763) 417-8650