Polaris Ranger 400 & EV Links

2010 Polaris Ranger EV UTV
Wyoming, MN -
The 2010 Model Year has proved to be another exciting year for Polaris. Many of their already class leading ATV / UTV models have received major updates and refinements while many other manufacturers have decided to maintain their existing line-up without making any changes to the line-up. Polaris has recognized the recent change in consumer demand for increased value and functionality in these tough economical times, so for 2010 Polaris expanded their Ranger Line-up to include the all-new Polaris Ranger 400 and industry first electric powered Ranger EV.
Over the past couple of years, the UTV / SxS market has rapidly grown and the focus has always been for bigger and more powerful units with high end features but that always leads to a higher price tag, which was no problem for consumers just two years ago, but in just a short period of time, the economy has taken a serious hit, which quickly changed what consumers could afford, so Polaris quickly responded with their new mid-size value packed Ranger 400 & Ranger EV models, which offer plenty of punch for a lot less hit to the wallet.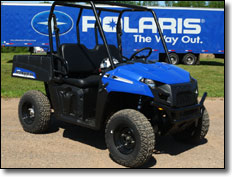 The Polaris Ranger 400 & EV Mid Size Class SxS offers the economy minded consumer a great product at a budget price starting at $7,999 MSRP
The 2010 Polaris Ranger 400 and Ranger EV are based on the same chassis, which are both slightly smaller than the Ranger full-size models by just a few inches, but their slightly smaller size allows them to fit easily into the bed of a full-size pickup truck, which eliminates the need to pull a trailer and again reduces the expense of ownership of these new Ranger models.
The Polaris Ranger 400 is powered by a 455cc-carbureted engine, which producs 29 HP, which is plenty of power to propel the 1050lb Ranger 400 to a class leading top speed of 40 mph, which is amazingly within a few mph of top speed of many other larger UTV models available on the market. The Ranger 400 also comes with a Speed Key option, which limits the top speed to 23mph with no reduction in power. With plenty of power on tap, the Ranger 400 has a 500 lb payload and a 1250 lb towing capacity, which is plenty for hauling items out on the trail or around the farm or work site.
Polaris Ranger 400 (above left) features a 29HP 455ccc carbureted engine, which is located under the bench seat along with the battery and fuel tank while the Polaris Ranger EV (above right) has eight batteries under seat and the Single 48 Volt AC induction motor is located under the rear dump bed