The Maxxer also has a parking brake which goes on easily. The shifting mechanism for high, low and neutral is also smooth and easy to use.
| | |
| --- | --- |
| | |
| An easy to access 2WD to 4WD button is located on the handlebars | A parking brake is located on the right hand side of the handlebars |
"The auto transmission makes it easy to ride, yet it forgoes the bulkiness of a utility quad. The auto transmission also allows you enjoy the ride and scenery without worrying about shifting" explains Wilkin of the new KYMCO.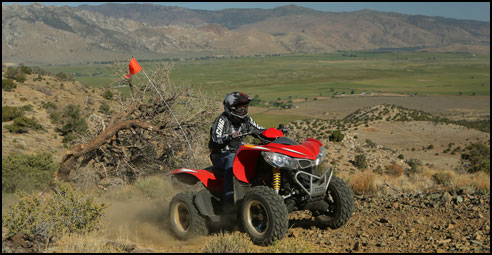 The 2012 KYMCO Maxxer 450i ATV features a liquid cooled 4­stroke Electronic Fuel Injected SOHC engine that produces 33 horsepower for both work & play
The 33 horsepower machine also comes standard with Maxxis tires which give a great grip on the trails. We discovered that the Maxxis worked so well on the Maxxer 450i that you rarely need to get into 4WD. We tackled a mix of hard pack trails, sandy up hills and creek crossing and the tires never faltered.
| | |
| --- | --- |
| | |
| The automatic transmission shift lever on the KYMCO Maxxer 450i Sport ATV is smooth & easy to operate | KYMCO uses a clear digital gauge located in the middle of the handlebars to display speed, rpms, fuel gages, & odometer |
Another great feature of the KYMCO Maxxer 450i is the clear digital gages. The odometer, tack, fuel gage and gears are all easy to locate when you glance down while riding. They were simple to understand and easy to see, both of which are important for any rider.
Overall, we were impressed with the KYMCO Maxxer 450i. It is a great in between machine. The smooth high speed action, the ease of on demand 4WD, reverse override and clear gages all boosted our opinion of the ATV. The quad would make a great all around quad for someone who has a little work to do, but also wants to keep up on the trails. The ease of the automatic transmission makes riding easier, while allowing the rider to keep pace with sport quads.