"The suspension worked well for the most part. It was a little soft for the intense terrain of the mountains; however, by increasing the preload a few clicks we could have solved the issue," regarded Wilkin of the KYMCO Maxxer's suspension.

The 2012 KYMCO Maxxer 450i has excellent handling & is very stable at high speeds
When it came to cornering the Maxxer 450i ATV ruled. Even with independent rear suspension the machine didn't have much body roll and felt very stable. The sport performance really showed as we were able to ride aggressively around hard corners without fear of rolling.
Our test ride went through the mountains and the vistas of the Sierra Nevadas and involved drastic elevation changes. The KYMCO Maxxer 450i comes complete with a fuel injection system that helped the unit adjust perfectly to the changes. The ride started at an elevation of 5,200 feet and we climbed to heights of over 9,000 feet above sea level.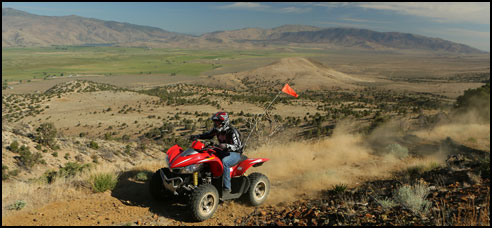 During our ride at the Eastern Sierra Jamboree we climbed from 5,200 ft. to over 9,000 feet above sea level. The Maxxer's fuel injected engine ran flawlessly at any altitude
"The fuel injection is a great feature that really adds to the overall value of the machine," said ATVRiders.com's Harlen Foley.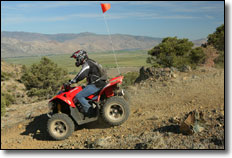 The engine braking system on the KYMCO Maxxer 450i Sport Utility ATV works very well making the rider rely less on the hydraulic disk brakes
Another tremendous feature of the KYMCO Maxxer 450i is the engine brake. The engine brake allows you to coast down hills without gaining to much speed or sliding. It alleviates a lot of brake usage, which came in handy on the steep terrain we tested on.
"All four tires braked very evenly. It is a really nice feature," said Wilkin.
The handle bars and hand controls are also set up well. The button to switch from 2WD to 4WD is easily accessed. The feature is not only easy to use, but also allows the rider to quickly access 4WD.