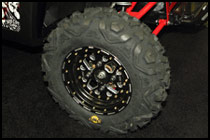 DWT 3 Piece Sector Wheel with MOAPA 6 ply UTV / SxS Tires
Alexandria, IN
- In Part two of our Kawasaki Teryx 750 4x4 UTV / SxS build we upgrade to aftermarket tires and wheels from DWT. This tire and wheel combination not only added a more aggressive look to the UTV but it also improved the overall handling of the Kawasaki Teryx 750.
The wheels we choose to use were a newly released three-piece wheel DWT dubbed the Sector Wheel. This three-piece wheel consists of two outer lightweight heat treated aluminum halves with a trick looking billet aluminum center.
There are several advantages of having a three-piece wheel including; both ease of maintenance and the ability to be versatile out on the track or trail. The three-piece design allows you to replace one or more pieces of the wheel if it does get damaged. This alone can save you from having to invest in another wheel. The three-piece DWT Sector Wheel also has the ability to change off-set and or bolt pattern simply by swapping out the centers.
The DWT Sector Wheels are designed with maintenance in mind. If you need to repair the wheel for any reason you can buy just the piece you need to instead of buying a complete wheel
To top it off the wheels DWT designed the wheel with their easy to use bead-lock riveted steel nut plate system that adds to the strength of the wheels and allows for quick maintenance when changing tires. Since we were on a deadline to have the ATVRiders.com / Santor Design Co. Teryx UTV ready for the Indianapolis Dealer Expo in February, we had DWT pre-mount the tires and wheels for us which saved a tremendous amount of time but that being said the three-piece sector wheels are designed to be easy to mount with their bead-lock riveted steel nut plate system.
Our Kawasaki Teryx 750 4x4 UTV with DWT MOAPA tires were able to grip the sand at the Bad Lands Off-Road Park in Attica, IN which made for a fun ride!
::CONTINUED::