2017 WORCS Racing
Round #9 - Glen Helen Raceway
June 18, 2017
Devore, California

Glen Helen WORCS Pro Stock SXS Race Report
::Continued::
In Pro Stock, Hancock just made the start of the race after a last-minute shock change. The change worked as he grabbed the holeshot. Sierra Romo and Bradbury tangled in the Talladega turn on the first lap, sending both flipping down the hill. Fortunately for Bradbury his car was undamaged and he got back into the race. Romo sustained a concussion and retired from the event.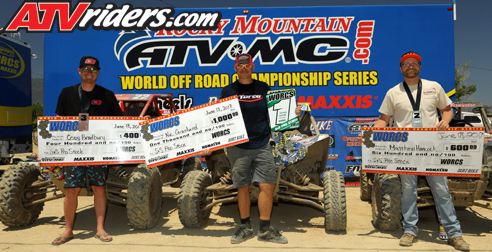 Round 9 WORCS Racing Pro Stock UTV Podium (left to right)
Cody Bradbury (4th), Nic Granlund (1st), Matt Hancock (2nd)
Hancock led for several laps before losing his brakes. Granlund took over the lead and held on to score his second victory of the weekend. Hancock overcame a career of bad luck at Glen Helen to finish second. Baron was fourth and took the points lead after Ray Bulloch had issues with his transmission due to contact with Granlund. Bradbury charged back to finish third, but was penalized 30 seconds for the first-lap crash and was scored fourth. Shelby Anderson finished fifth.

Cody Bradbury & Sierra Romo collided in the first turn, which sent the pair flipping down the hill. Cody Bradbury was able to resume the race, but Sierra's race was over before it barely started, thankfully she was ok
"I was pushing Matt and trying to stay out of his roost," said Granlund. "I was right on him when we go into the lappers and then he made a small mistake and I took the lead. It was a great weekend. I'm just super stoked. I'm surprised there aren't more Yamahas out there. We have them running well."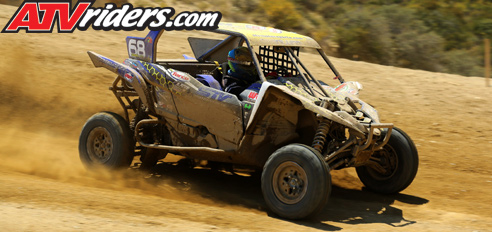 STV Motorsport's Nic Granlund charged his way past Matt Hancock to take over the lead & Win, which boosted him to 4th in the points race even after missing the Lake Havasu race due to work
Hancock has had a difficult season in his Polaris and has had an even more difficult time in his career at Glen Helen. The podium may be just what Hancock needs to finish out the season strong.
Pro Motorsports' Matt Hancock secured his third 2nd place finish of the season in the WORCS Pro Stock SXS Class at Glen Helen Raceway
"I had an awesome battle with Nic Granlund," said Hancock. "He had a couple of times where he could have taken me out, but he raced me clean the whole time. I've never had any luck here, so I'm pumped to get on the podium. I needed a little boost. It's been a rough year so it's nice to be up front and be reminded that I can drive with these guys out here."
Baron was running third when Bradbury caught up to him. Wisely looking at the points picture, Baron let Bradbury go, and later, Bradbury was penalized 30 seconds for his first roll over at the start, which boosted Baron to third. His finish, combined with Bulloch's DNF puts Baron into the points lead with just two races left in the season.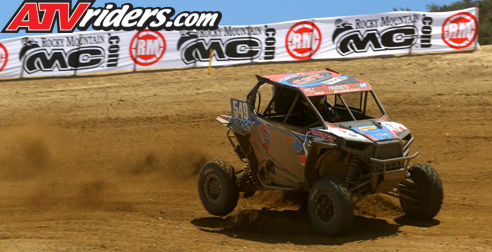 CST's Beau Baron secured his 2nd straight podium finish in the WORCS Pro Stock class, which boosted him into the points lead with Ray Bulloch suffering a DNF at Glen Helen
"My main goal was to keep my car together today," said Baron. "These jumps were really hard on equipment. I just ran smart, got some points and it panned out for me. It's really big to be in the points lead. So much effort goes into these cars so to have a finish on a weekend is a big deal. Working on all of my own stuff, it's a great feeling to be in the front. I have two rounds left and I have to smart and not get flipped."
Bradbury showed grit and toughness to come back from the hard crash at the start and come back to finish in third physically, but a 30 second penalty applied afterwards dropped him back to a fourth place finish. The factory Polaris driver was amazed at how much punishment his RZR took during his run.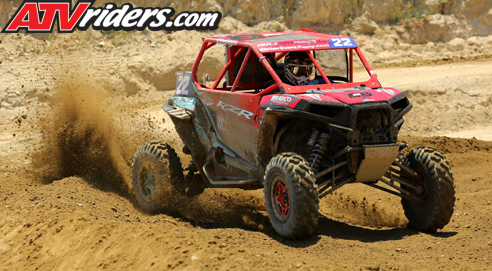 HOLZ Racing's Cody Bradbury proved the durability of his Holz Cage by overcoming a bad wreck & charging his way to a 3rd place finish before being penalized 30 seconds for rolling over in the first lap, which dropped him to 4th in the Pro Stock Class
"I got bumped a little bit and it was one of those racing incidents; I hope Sierra is OK," said Bradbury. "Once I got back going I put my head down and ran that thing as hard as I could. It was a tough car today. Congrats to Nic and Matt. They had a good day."