2015 WORCS UTV Racing
Round #5 - Sand Hollow
April 18, 2015
Hurricane, Utah

WORCS UTV / SxS Racing Round 5 Race Report
Ryan Piplic Takes Pro & Unlimited WORCS SxS Racing Wins
WORCS Racing - Round 5
ATV / SxS Links

Hurricane, UT (4/20/2015) - Ryan Piplic took wins in both the SxS Pro and SxS Unlimited classes at round five of the 2015 WORCS series, and extended his WORCS SxS Pro points lead, while H&M Motorsports' Beau Baron found his way back to the podium with a second place finish in the SxS Pro class and Jacob Shaw clinched the win in the SxS Pro Stock class.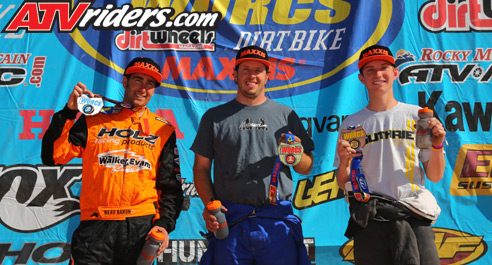 WORCS Racing Pro SxS Podium (left to right)
Beau Baron (2nd), Ryan Piplic (1st), Mitch Guthrie Jr (3rd)
Sand Hollow State Park was the hosting facility for round five of the WORCS series and featured rough conditions, rocks and sand dunes. Weather conditions were good and dry conditions were present, which did lead to some dust, but Ryan Piplic was ready for action.
The Sand Hollow WORCS SxS Race was started right along the lake shore in the sand
Nelson & Nelson's Ryan Piplic was wheel to wheel with Mitch Guthrie, Jr. off the start, but Guthrie, Jr. managed to edge out Piplic for the holeshot. Piplic wasted no time in going for a pass and took the lead in the second turn. "Mitch and I were really close off the start, and I got around him in the second turn. I was told I had a ten second lead at one point, but then RJ Anderson came out of nowhere and caught me," said Piplic.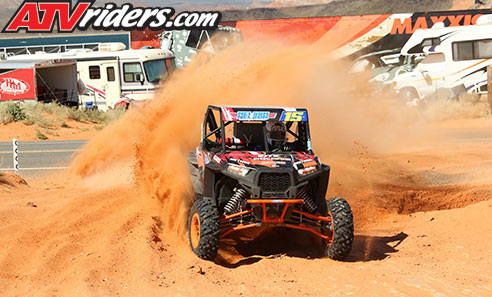 Maxxis' Ryan Piplic battled early on with RJ Anderson for the lead
Piplic and Anderson swapped the lead several times, but Piplic was able to retake the lead when Anderson took a wrong turn and got off course. Once he was back out front, Piplic led the rest of the race and took the SxS Pro win to extend his WORCS SxS points lead. "This is my favorite track and it was a good race. Having clean air out front really made a difference for me. I'm super excited to take this win and the points lead. This is what we have been working for all year and I can't thank Polaris, Nelson, Maxxis, Fox and all of my sponsors. It feels good to be here and be able to give back to them," said Piplic.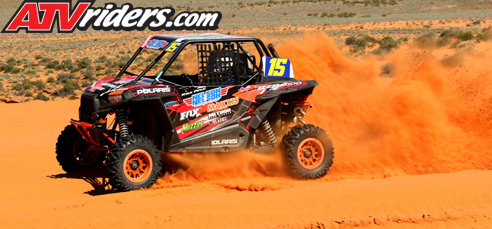 FOX's Ryan Piplic held onto the secure his first WORCS SXS Pro win & extend his points lead to six over Mitch Guthrie Jr in second place
H&M Motorsports' Beau Baron, who had a nasty crash at round four and injured his shoulder during ATV practice, which slowed him down at Lake Havasu, but several weeks gave Baron some time to heal and make a run for the podium at round five "It was just a tear in my shoulder, and I feel way better than I did at the last round," Baron stated.
HOLZ Racing's Beau Baron got off to a slow start, but he quickly charged his way into the mix in the third spot
Baron was in the top three off the start but at one point fell back to seventh place. "I was timid in the sand dunes; I didn't know what was on the other side and some of it was just crazy. Some guys had more (guts) than I did and I was back in seventh place. I finally dropped my purse and got going. I couldn't remember the course very well, so after a couple laps I finally figured out some lines and got into second," said Baron.
Maxxis' Beau Baron charged his way to a season best 2nd place finish, which boosted him into 4th place in the points race, but he is still 19 points behind Ryan Piplic in the lead
Once in second place Baron held his position and claimed second at the checkered flag. "It was a big deal for me to be back on the podium. I've had some issues this season, so it feels good to be back on the box," said Baron.