2015 WORCS Racing
Round #2 - Buffalo Bill's
February 8, 2015
Primm, NV

WORCS Racing ATV Race Report
Beau Baron Takes 2nd Straight Pro ATV WORCS Win
WORCS Racing - ATV / SxS Links

Primm, NV (2/10/2015) - H&M Motorsports' Beau Baron clinched his second win of the season at round two of the 2015 WORCS Racing series at Buffalo Bill's where he was joined on the WORCS Racing Pro ATV podium by David Haagsma and Robbie Mitchell, while Mike Sloan claimed victory in the WORCS Pro-am ATV class.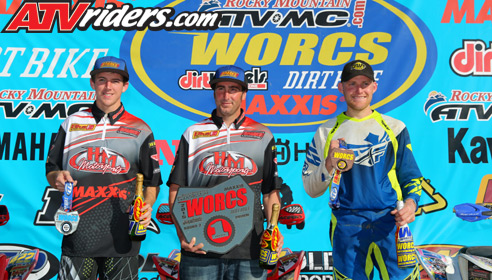 WORCS Racing Pro ATV Podium (left to right)
David Haagsma (2nd), Beau Baron (1st), Robbie Mitchell (3rd)
For WORCS Racing round two, the Pro Motorcycles and ATVs were combined for part of the Pro and Pro-am Main event. The motorcycles were the first to leave the line followed by the quads. After the start, the motorcycles went off to the right and the quads went off to the left onto the short track truck course before heading out into the desert. Near the midway point of the course, the motorcycle and quad course combined till shortly after the finish line, and the crowd favorite road jump was also added for the Main event.
For the second straight time, Sparks Racing's David Haagsma grabbed the WORCS Racing Pro ATV Holeshot
As the quads left the starting line, Sparks Racing's David Haagsma and Robbie Mitchell were side by side, with Haagsma edging out Mitchell for the holeshot. Not far behind, was defending WORCS Pro ATV champ, Beau Baron in third. Baron, who has been feeling under the weather, was able to make the pass on Mitchell in the third lap and then closed the gap on Haagsma.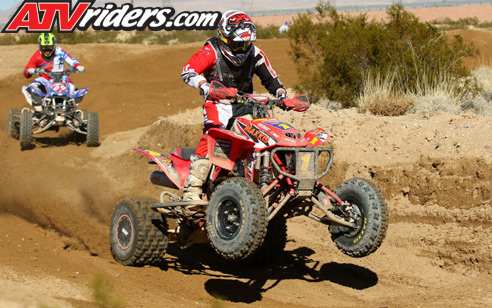 Elka's Beau Baron took over the WORCS Pro ATV lead in lap ten
Haagsma was riding fast but in the final laps, Baron was able to make the pass and take home his second win of the season. "David had a great lead, and once I got around Mitchell, David and I were riding about the same pace, and then I was able to close in on the final laps and take the lead. We were going really fast, so thanks to Sparks for keeping my machine running so well and to Tire Blocks and Roll Design and Elka for handling all the rough conditions," said Baron.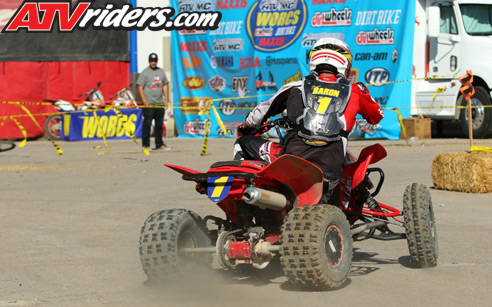 Maxxis' Beau Baron came on strong in the end to claim his second straight Pro ATV win of the 2015 WORCS Racing season