2016 Terracross Championship
Rounds One & Two
September 11, 2016
North Branch, Minnesota

Hay Days Terracross Women's Pro RZR Report
Sara Price Takes Both Wins at Hay Days Terracross Championship
Terracross Championship
Pro RZR Racing
North Branch, MN (9/23/2016) – BitTorrent's Sara Price exhibited the same patience and speed she showed last season to sweep both rounds of the Mystik Lubricants Terracross Championship Pro Women Class SXS season opener at the Sno Barons Hay Days. Shelby Anderson finished second in both races. Katie Vernola was third in the first race, while 15-year-old Hailie Deegan was third in the second round.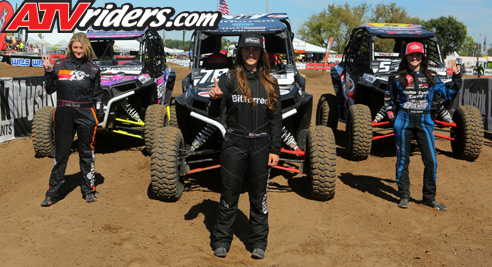 2016 Terracross championship - Round 1 - Women Pro RZR Podium
Katie Vernola (3rd), Sara Price (1st), Shelby Anderson (2nd)
The season opener was held as part of the 50th Anniversary Sno Barons Hay Days, the traditional start of the fall and winter powersports racing season. The track, built by Dana Creech and Jason Luburgh with help from Ziegler CAT, featured a technical layout combined with high-speed sections, and several big air jumps, including a triple. The Mystik Mayhem section returned with a 20-foot wall, broken concrete and tires. The track was universally praised as the best layout in Terracross history.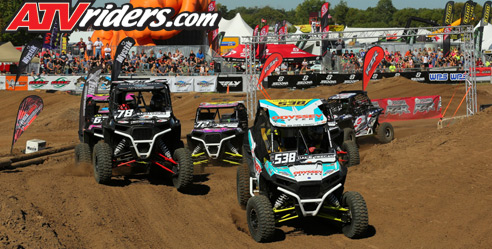 Odyssey Batteries' Hailie Deegan grabbed the Women's Pro RZR Holeshot in Round One followed by #78 Sara Price
The "Dirt Princess" Hailie Deegan, who was making her Terracross debut, scorched the charts by taking the top qualifying spot by nearly three seconds. She led the first two laps of race one before a differential issue sidelined her charge. Price took over the lead and wasn't challenged from there.
BitTorrent's Sara Price took over the early lead & ran away from the competition to claim the Round One win
"The competition is stiff this year and I haven't been in a car since November, so I went out there, trying to get comfortable again," said Price. "I'm excited to be back on the top of the box in my BitTorrent car. There is really good competition this year. Hailie Deegan is being groomed to race in NASCAR. Jolene has been putting in laps like crazy and she is really fast this year. Shelby Anderson is always a steady competitor. The course is great. It requires a lot of patience. You have to slow down and stay calm or it can get hairy really quickly."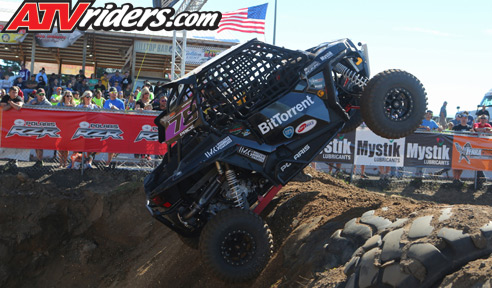 BitTorrent's Sara Price lauching over the Mystik Mangler