2016 Terracross Championship
Round One
September 11, 2016
North Branch, Minnesota

Terracross Championship Round One Pro RZR Report
Jason Luburgh Wins Terracross Championship Season Opener

North Branch, MN (9/15/2016) – Jason Luburgh picked up right where he left the Mystik Lubricants Terracross Championship last year, winning the season opener at the 50th Anniversary Sno Barons Hay Days. The two-time defending champion snagged the holeshot in the first of two races on the weekend and led every lap. Mickey Thomas finished second, followed by Dana Creech, Cole Cottew and Terracross newcomer Ray Bulloch.
2016 Terracross championship - Round 1 - Pro Polaris RZR Podium
Dana Creech (3rd), Jason Luburgh (1st), Mickey Thomas (2nd)
Racers and spectators were treated to near perfect conditions for the Terracross season opener during the 50th Anniversary of the Sno Barons Hay Days event in North Branch, MN. The event attracted a huge crowd of approximately 30 to 50 thousand spectators, and thousands were lining the fence to catch the Terracross racing action on Saturday and Sunday.
tens of thousands of people attended the 50th Annual Sno Barons Hay Days event & the entire track was surrounded by several thousand spectators for the Polaris Pro RZR Main events
On Saturday night after the Terracross Heat races, Minnesota Hero, Levi LaVallee made Hay Days history by launching his Polaris Snowmobile over 200 feet in front of a huge crowd in celebration of the 50th Anniversary of the event, which was a long jump record for the event.
Polaris' Levi LaVallee launched his snowmobile over 200 feet in celebration of the Sno Barons Hay Days 50th Anniversary
GBC's Jason Luburgh, along with Dana Creech, designed the track this year with help from Ziegler Caterpillar. The track differed from year's past with more tabletop jumps and with an eye on flow and passing zones. The series is again pitting its athletes against each other in stock Polaris RZR XP 1000s. The equalized equipment results in spectacular racing.
Ziegler Caterpillar stepped up for 2016 Hay Days Terracross event by providing some top notch CAT equipment to build the track
Luburgh's race was nearly over before it started. On the parade lap, he tested one of the new lanes designed into the course and ended up bending an A-arm in the process. The Terracross mechanics quickly had his machine repaired and Luburgh made it to the line in time to grab the holeshot and dominate the race.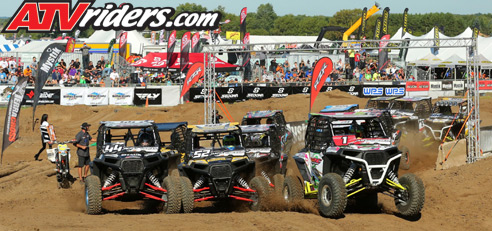 GBC's Jason Luburgh grabbed the Pro RZR Holeshot
"One of the perks of being a track builder: sometimes it doesn't always work," laughed Luburgh. "I went out there, tried the new line to see if the tires were all even and it didn't work. The crew got me back out, I pulled the holeshot and maintained the lead. I knew Mickey was behind me and that kept me moving pretty hard because I didn't want him pressuring me.
#1 Jason Luburgh head the lead from start to finish
"Everything went really smooth," continued Luburgh. "The track is amazing. There's plenty of room to pass and it's a lot faster than last year."
Jason Luburgh secured the Terracross Pro RZR Win to take control of the points lead to kick off the 2016 season