NEATV-MX Racing - Round 10 - MX 101- ATV Race Report
BCS / Can-Am's Josh Creamer Wins, Michael Troiano & Brad Burbine Podium
New England ATV Motocross
(NEATV-MX) - Round10 Links

Epping, NH (9/18/2012) -The eleventh round of the NEATV-MX Series was held at MX101 in Epping, New Hampshire this weekend. The weather was cooler since NEATV's last visit in June, but this made for awesome riding weather. The wind was strong at times, making the track quite dusty, but the MX101 crew stayed on top of watering and maintenance of the track and race day went very smoothly.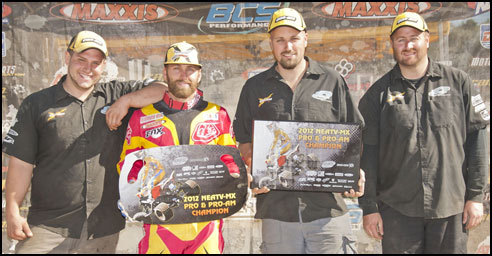 2012 New England ATV Motocross Pro & Pro-Am Champion Josh Creamer celebrated multiple early Championship wins with his BCS Performance / Can-Am Race Team
BCS Performance / Can-Am DS450 mounted Josh Creamer pulled out another great weekend taking both Pro moto wins. Creamer shot off the line in the first moto taking the holeshot and led from start to finish. "The first pro moto went well, I grabbed the holeshot and checked out after that," commented Creamer.

BCS Performance / Can-Am's #21x Mike Troiano grabbed the Pro Moto 2 Holeshot
In the second moto, Creamer started off the line in second behind fellow BCS Performance/Can-Am DS450 rider, Mike Troiano, but made quick work on Troiano, and took over the lead to finish first, taking the overall win in the Pro class for the day.
Josh Creamer went 1-1 in the NEATV-MX Pro class to win the overall at MX 101