BCS Performance/Can-Am DS450 rider Mike Troiano rode hard in his Pro motos. In the first moto, Troiano started in the back of the pack but was able to make his way into second by the end of the eight lap moto. "Some of the guys in front of me made some mistakes so I was able to make my way by" remarked Troiano.
BCS Performance's Mike Troiano was consistent in both Pro Motos placing second in each moto earning him second overall aboard his Can-Am DS450 ATV
Off the gate in the second moto, Troiano had much better luck grabbing the holeshot and leading for the first lap. Troiano dropped into second when he was passed by Creamer early in the second lap and would finish his moto taking second, also taking second overall in the Pro class for the day.
#949 Brad Burbine rounded out the Pro podium in third aboard his Can-Am DS450 ATV
Can-Am/Mastine Powersports Brad Burbine filled out the top three in the Pro class for the weekend. Burbine started the first moto in second and stayed close with Creamer before making a mistake in a corner causing him to fall back to fourth. Unable to regain any ground, Burbine would finish the first moto in fourth. Off the start in the second moto, Burbine came out in third and would stay in third from start to finish, giving him third overall in the Pro class. Burbine currently sits second in points for the Pro class.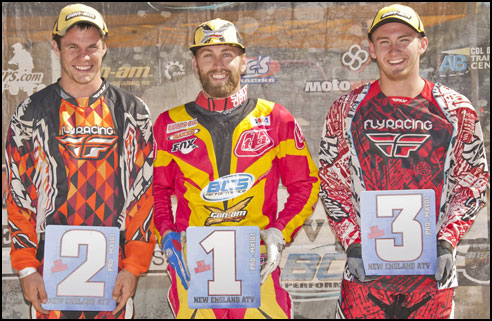 New England ATV Motocross Pro ATV Podium (Left to Right)
Michael Troiano (2nd) , Josh Creamer (1st), Brad Burbine (3rd)