New England ATV Motocross
(NEATV-MX) Links

Southwick, MA
- The second round of the NEATV-MX series was held at the well known MX338 in Southwick, Massachusetts. Race day saw sunny skies, but with a cool temperature and some strong winds that would pass through making the track quite dusty at times. Throughout the day, the track became difficult to ride, with big breaking and sharp edged accelerating bumps that formed as the day went on. Even some of the best, most fit riders, found this track to be very difficult and demanding.
BCS Performance/Can-Am's Josh Creamer took the overall win in the Pro & Pro-Am Class at MX338
BCS Performance / Can-Am rider Josh Creamer started off the line in second staying close with Can-Am rider, Richard Pelchat in the first Pro moto. After the first few laps, Creamer was able to charge by Pelchat and rode hard in order to gain distance from the rest of the pack, and took the win in the first moto.
In the second Pro moto, Maxxis Tires Josh Creamer shot off the line taking the holeshot, and gaining a strong lead which would result in a second moto win, and a first overall in the Pro class. "My BCS powered Can-Am DS 450 shot off the line, those Maxxis tires were hooking up, which helped me take the holeshot and the win," stated Creamer.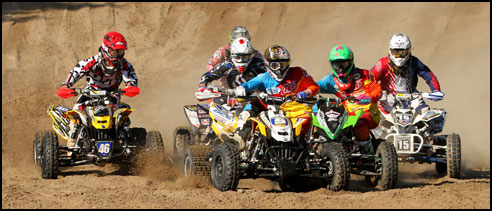 #9 Josh Creamer grabbed the Pro Moto 2 Holeshot aboard his BCS Performance powered Can-Am DS450 ATV at NEATV-MX Round 2
Southside Polaris has strived to put their Polaris on the podium, and this weekend they were able to do just that. Travis Moore rode hard in both of his Pro motos. In the first moto, Moore flew off the line into third, but was passed by Deroy in the first lap. With the help of JRI Shocks, Moore was able to fly through tough parts of the track, even with a bad wrist. Moore battled with Deroy for the next few laps before making his move and taking over third.
Team Southside Polaris' Travis Moore placed second overall in the Pro Class despite hurting his wrist in Pro Moto 2
#969 Travis Moore puts pressure on Can-Am's Richard Pelchat before making the pass to take over the 2nd spot
In the second Pro moto, Moore started off the line in fifth and made quick work on Deroy and Burbine in the first two laps, moving him into third. Moore had Pelchat in his sites, and was able to reel him in making his move into second. Moore was gaining on Creamer, but hit a deep hole that really tweaked his wrist he had hurt a couple weeks back, and just kept a steady pace to finish off the last couple laps. Moore would take a second overall for the day.