Can-Am DS 450 mounted Richard Pelchat flew off the line, taking the holeshot in first Pro-Am moto. Pelchat felt pressure from DRT Motorsports rider, Abram Hakala, but made the right moves to keep him from making a pass. For the remainder of the first moto, Pelchat was able to make distance from the pack and would take the win.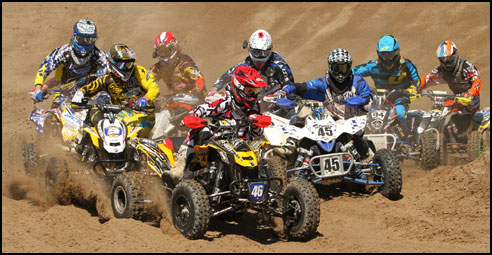 Motoworks' #46 Richard Pelchat grabbed Pro-Am Moto 1 Holeshot on his 911 Racing powered Can-Am DS450 ATV
In the second Pro-Am moto , Pelchat started off the line in third behind Hakala, but made his move early in the first lap to take over second. His sites were set on Creamer, but was not able to catch him, and would settle for second, giving him second overall in the Pro-Am class.
#46 Richard Pelchat & #45 Abram Hakala battled for position in both Pro-Am Motos. Pelchat would take second overall followed by Hakala in third
DRT Motorsport's #45 Abram Hakala had an excellent day in the Pro-Am class. In his first moto, Hakala shot off the line into second behind Pelchat and gave a good battle with him for the first few laps. Towards the last few laps of the moto, Creamer made his move on Hakala, which pushed him into third for the remainder of the moto.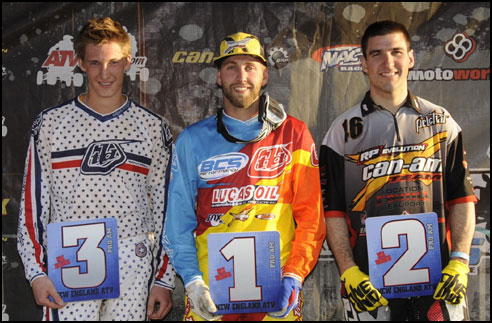 New England ATV Motocross Pro-Am ATV Production Podium (Left to Right)
Abram Hakala (3rd) , Josh Creamer (1st), Richard Perchat (2nd)
In the second Pro-Am moto, Hakala charged off the line into second and held a tight battle with Pelchat for the first lap before dropping back into third. Hakala would round out the podium in the Pro-Am class. "My bike ran really well all weekend. I got my starts dialed in pretty well, and it handled all of the rough sections," commented Hakala on how his bike handled the difficult track.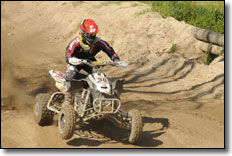 Travis Spader won the Overall in the 4 Stroke A Class at MX338
The 4 Stroke A class was filled with fourteen riders on race day. Point Pleasant, New Jersey's Travis Spader had a good first moto, battling with Pomeroy for first, but unable to make a pass, Spader would take second.
In the second moto, Spader had a great start and stayed out in front, taking the win. East Windsor, Connecticut's Matt Pomeroy went 1-3 in his motos, allowing him to take second overall in the 4 Stroke A class. Filling out the podium is North Haven, Connecticut's Michael Troiano, who went 3-2, taking third overall.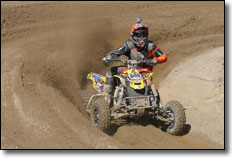 Brent Royea won the Open C Class on his Can-Am DS450 Sport ATV
The Open C (15+) class held 16 riders. Can-Am DS 450 mounted Brent Royea, from Derby, Vermont, had an awesome day at the track. Royea had good battles with Jermey Rinaldi out of Wolcott, Connecticut, throughout both motos. Royea would claim the overall win after going 2-1 in his motos. Rinaldi took second overall in the Open C class, and Oakville, Connecticut's Josh Lasko, who went 3-4, would round out the top three.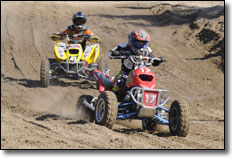 Cody Contino won both motos in the 50 Limited Class to take the overall
The 50 Limited (4-8) class held eight riders this weekend. Bozrah, Connecticut's Cody Contino had an excellent weekend. Contino went 1-1 in his moto, taking the overall win in his class. Melville, New York's Brayden Zalbert went 3-2, giving him second overall. Filling out the top three is Barnegat, NJ Joseph Naia, who went 2-3.
The next round of the NEATV-MX series will be held at MX207 in Lyman, ME on May 20th, 2012.