NE EDT Racing - Round 6
Busco Beach
Goldsboro, NC
August 6, 2016
NE EDT Racing Round 6 ATV Race Report
Brad Riley Wins Pro Class & CJ Robson Wins Pro-Am Class
2016 New East EDT Round 6
Busco Beach

Goldsboro, NC (8/12/2016) - The Schaeffer Excavating / Noel Property Maintenance New East Extreme Dirt Track series held it's round six event at the red-clay track of Busco Beach and ATV Park. Brad Riley struggled during his heat races but had it dialed in for the main event to come home with another win in the Pro class followed by Andrew Evanyke in second and Chuckie Creech in third place. In the Pro-Am class, CJ Robson pulled off a major surprise victory, leading the entire race, followed by Brad Riley in second and Michael Houghton in third place.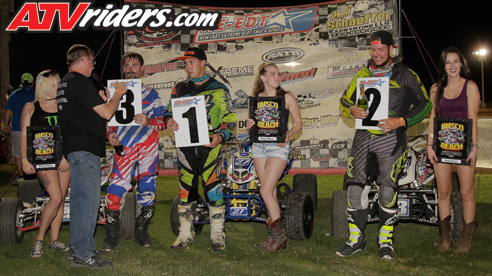 NE-EDT Pro ATV Podium (left to right)
Chuckie Creech (3rd), Brad Riley (1st), Andrew Evanyke (2nd)
MAXXIS Tires / DASA / PEP's Brad Riley was having some issues during his heat races and seemed to be off the pace a bit. However, when it came time for the B&B Racing Engines Pro main event, Riley proved he had the bugs worked out and was out for a win. Riley grabbed the Blood Enterprises / Extreme Promotions holeshot award and was off to a lead and created a gap for himself almost immediately. The track at Busco was extremely tight and the blue groove was almost immaculate and Riley found his groove quickly on the course. Riley was able to maintain his position out front for all twenty laps and brought home the win without any contention from behind.
Brad Riley grabbed the holeshot in the Pro Main & led for all 20 laps
"I fixed up some things on my bike and made it better from the Pro-Am race and I got off the line great and got the holeshot. The track was really hooked up and one-lined but I got out to the early lead and was able to ride my own pace without a lot of work needing to be done," said Riley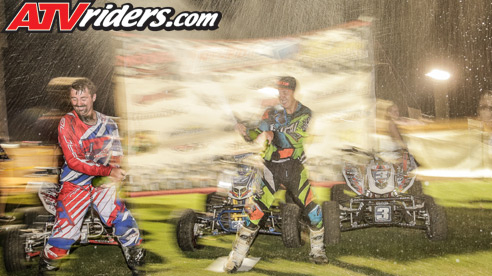 Brad Riley & Chuckie Creech celebrate their podium finishes by popping champagne
TSI Competition Engines / RATH Racing / PEP's Andrew Evanyke had his best finish in his Pro career this weekend as well with a second place finish in the Pro main event. Evanyke got off to a good start near the front of the pack behind Riley and continued to push and make an effort to stay with the front of the pack as the rest of the racers found their comfort zones. Evanyke made every effort possible to stay at the top of his game, hit his marks, and stay on the pace of Riley who was running at a fever pitch. Luckily for Evanyke, he has been in this position before and knows what it takes to remain calm and stay on his toes to not make any mistakes, and was able to come away with a solid second place finish.
Andrew Evanyke finished second in the Pro Main at Busco Beach
CCR Racing / MAXXIS Tires / WISECO / CEWO's Chuckie Creech also had a good showing in the Pro class after a tough battle off the start of the holeshot, coming out in the top five and quickly moving into fourth place for the first couple of laps. Creech was behind Tiffer Bures and had a fight on his hands but was able to make it around him and into third place around the fifth lap. From this point forward, Creech maintained his speed but was never able to catch Evanyke by the time the twenty laps ticked by, and was forced to settle for third place on the Pro podium.
Chuckie Creech rounded out the Pro podium in third