NE EDT Racing
Round 1 - Ironclad
Kinston, North Carolina
April 29, 2016
NE EDT Racing Ironclad Motorsports Race Report
Chuckie Creech Wins NE EDT Pro Class at Round One
2016 New East EDT
Round 1 - Iron Clad Motorsports

Kinston, NC (5/10/2016) - It was time to get back in the saddle for the first round of the 2016 New East Extreme Dirt Track series this weekend in Kinston, North Carolina! The Schaeffer Excavating / Noel Property Maintenance NE-EDT series featured a double-header weekend with holeshot awards sponsored by Turtle Racing Engines and saw some intense racing action! 2015 Pro champion Chuckie Creech showed he meant business in 2016 by winning the opening round of the Pro class with Brad Riley taking the win in Pro-Am and second in the Pro class. Michael Houghton finished in third place in both Pro and Pro-Am for round one with Brian Ace taking home second place in Pro-Am.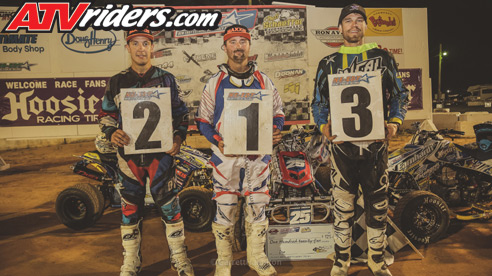 NE EDT Racing Pro ATV Podium (left to right)
Brad Riley (2nd), Chuckie Creech (1st), Michael Houghton (3rd)
Wiseco / MAXXIS / Elka Suspension / JT Racing's Chuckie Creech had a point to prove heading into the opening round and that was to defend his Pro championship from last season. Creech spent the majority of his day dialing in his Elka suspension and fine tuning his setup for the night show and his setup seemed to be on-point as he came off the line and snagged the Turtle Racing Engines Holeshot award and headed into the first corner in first place. Brad Riley was in hot pursuit of Creech and wasn't about to let him slip away. Creech knew he was in for the battle of his life with no gap between him and Riley.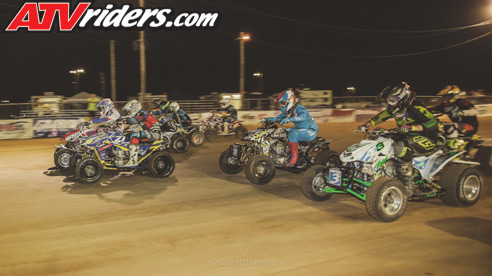 Chuckie Creech grabbed the Turtle Racing Engines Holeshot award
Lap after lap, Creech was literally bar-to-bar with Riley coming out of the last switchback section of the Ironclad Motorsports track which then launched the racers out into the front stretch. Every lap Creech defended this spot by gaining extra momentum around the outside of the turn, even when Riley got ahead of him. As the twenty laps ticked away Creech told himself just to hang on for a few more corners and his perseverance paid off with him coming across the finish line with a fair amount of distance between himself and Riley after pulling away during a small spin-out by Riley on the last lap.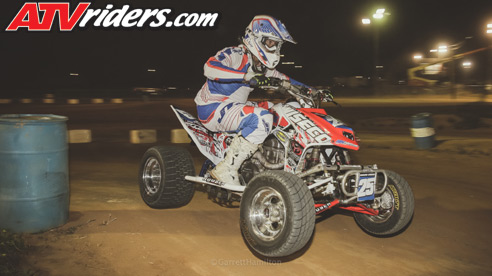 Chuckie Creech battled back and fourth with Brad Riley & crossed the finish first
"We had a ton of fun out there tonight and this Rage motor, Houser components and MAXXIS tires bike got me off to a great start and the holeshot. That made it a little easier for me to take the win but me and Brad (Riley) swapped back and forth a bunch of times and I was able to get him back each time. I'm really happy with the way my bike came together and the package we have heading into this season and I'm really pumped to win tonight! I really want to thank Eric Ashcraft and Harold Goodman for their support and help with my program," said Creech.
MAXXIS / DASA / PEP / SSi Decals' Brad Riley knew what his task at hand was going to be for the main event immediately as they rounded the holeshot corner and found himself in second place behind Creech. Riley had his mission game plan set, now he just needed to execute it. Every lap that ticked by saw Riley putting moves on Creech as he tried to snatch the first place spot from him around every corner, going harder and faster into each corner, trying to find even the slightest advantage. Both Creech and Riley suffered from a spin out during the last part of the race and both were able to continue on their way without losing ground. For Riley, there just weren't enough laps left to mount a heavier charge to take the win and he was forced to remain in second place as they crossed the finish line.
It looked as if Brad Riley might take over the lead as he made several pass attempts on Chuckie Creech, however Riley was unable to make a pass stick & finished second