GBC Heartland Challenge Polaris ACE Race Report
Team UXC Racing's Torey Rush Takes Second Straight Win
2016 GBC Heartland Challenge Links

Carlisle, IA (8/27/2016) - UXC Racing's Torey Rush won his second consecutive GBC Heartland Challenge ACE single seat race in the 900 Class. British racer and Rush's teammate Becky Widdicombe finished second, ahead of RT Pro's Jesi Stracham.
GBC Heartland Challenge Polaris ACE Podium
Held at the challenging course, the event was part of the ninth annual Heartland Challenge, which also comprises SXS and ATV racing. With storms threatening, the Ace race was moved up two hours, but nothing was holding Rush back. He was quickly on the holeshot at the start and never looked back, winning by just over five minutes.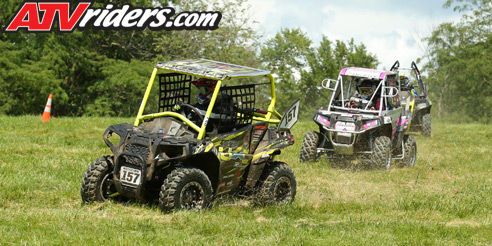 #157 Torey Rush grabbed the holeshot ahead of Jesi Stracham
"Polaris makes such a great product and Team UXC is such a great team," said Rush. "I've had a lot more time to race and a lot more time in the Ace. We've been running the full GNCC season and some Best in the Desert races, and it's been great. The course was awesome; it was really fast. I just got a smooth rhythm going out there and just never looked back. We've had some bad luck in some of the GNCC races, but we really have the Ace dialed in for the last two races."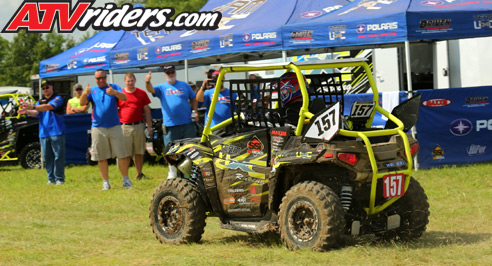 UXC Racing's Torey Rush kept the pedal to the floor for the entire race as he ran away from the competition for the overall win
Becky Widdicombe joined Team UXC and the British racer actually relocated to the United States this year to make it easier for her to race here.
Maxxis' Becky Widdicombe finished in the 2nd spot & 3rd overall
"The way you guys treat the sport over here is fantastic," said Widdicombe. "The UXC team has been like a family. I race a Suzuki 450 sport quad back home. So to step in something with a rollcage is pretty fun. This event is amazing. The track was great and it stayed together well. It was a real mix of technical stuff and some motocross stuff. It kept it interesting for the whole race."
Stracham fought trouble right from the start. After having belt problems early, her Polaris threw the belt and began smoking. Team UXC came to the rescue, getting her a new belt and getting her back on track.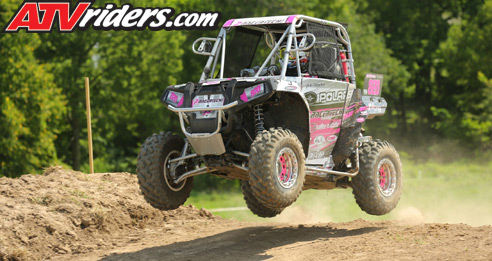 RT Pro's Jesi Stracham rounded out the Polaris ACE 900 Class Top 3
"I was really bummed after losing the belt," said Stracham. "This is really practice for me for GNCC because I'm still in the championship over there. I had belt problems from the start. My check engine light came on early. When the belt came off, I thought the car was on fire. Team UXC gave me a belt and got me back going. As long as I finished and I'm healthy, that's all the counts."
In Ace 570, Shane Michael's second-place overall finish placed him first in class. The local racer competes in a local Iowa ATV Harescramble series, where he is the points leader.
Shane Michael's Won the ACE 570 Class & finished 2nd Overall
"The race was tiring, but fun," said Michael. "The Ace gives me control and I don't have to worry about anyone else. The track was excellent. I couldn't have asked for a better track."
Exciting racing, a well-run program and strong camaraderie made this year's Heartland Challenge a race to remember.