GBC Heartland Challenge Pro 4x4 ATV Race Report
Team UXC Racing's Michael Swift Takes 7th Pro 4x4 ATV Win
2016 GBC Heartland Challenge Links

Carlisle, IA (8/26/2016) - Michael Swift won his seventh GBC Heartland Challenge 10 Hour Pro 4X4 ATV race. Riding for Team UXC with co-riders Kevin Trantham and Bryan Hulsey, Swift took the lead late in the race on a Polaris when Team Cecco Racing had a belt problem on its Can-Am. The Cecco team, with riders Cody Miller, Bryan Buckhannon and Rick Cecco, finished second, followed by the Team JW Builders Can-Am of Jason Watt, Daniel Prindle and Haedyn Mickelson.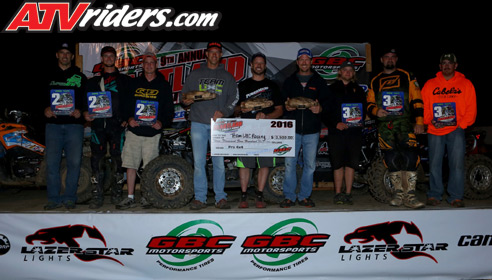 GBC Heartland Challenge 4x4 Pro ATV Class Podium (left to right)
Team Cecco (2nd), Team UXC (1st), Team JW Builders (3rd)

With rain the night before and into the morning, the 10 Hour ATV race start was delayed by one hour, which caused the race to be slightly shortened to just under nine-and-a-half hours.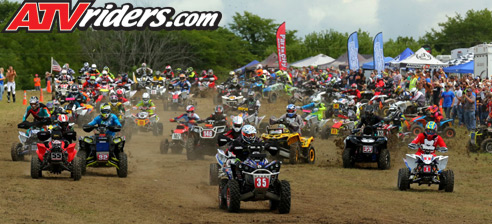 Pro 4x4 Team, #35 Jason Watt, grabbed the holeshot in the LeMans Style start of the GBC Heartland Challenge with a total of 68 total teams
While the rain may have shortened the racing, it resulted in one of the best tracks in the nine-year history of the event. The track comprised the typical cross country course, along with small motocross section, and the GBC Tires Challenge section. The short-cut section featured piles of broken concrete, telephone poles, tires and dirt mounds and challenged everyone who took it.
The UXC squad had handlebar problems early in the event and had to go to another quad. That early mechanical issue put them back a little over seven minutes. But the team kept charging and when the Cecco Team fell back, they pounced and held on for the victory.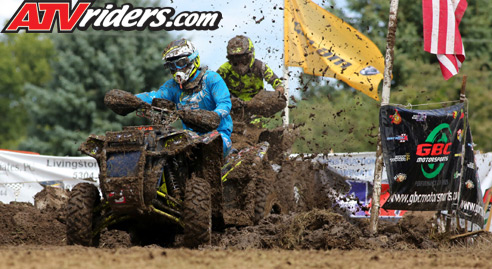 UXC Racing's Team Leader, Michael Swift, lead the charge for the team on the Polaris Scrambler XP 1000
"We had a good, evenly matched team," explained Swift. "It was back and forth all day, but it was close. We were down for a while. We had our problem and then they had theirs. We had a good day, and I'm excited and proud. On the start, we knew the Challenge section was going to be tough. I got stuck a couple of times, but after it got settled down, it was fine if you didn't have traffic. I did the last hour and did some fast trail riding to try to save the machine. I backed down and it worked out for us in the end."
Michael Swift finished the race for the team. Despite their opponent's late mechanical woes, he said the team had to react quickly the Cecco's team pit strategy,
Michael Swift started the race & finished it for the team to claim his 7th GBC Heartland Challenge Win
"We had to strategize a little because Cody Miller's teams did a great job on pit strategy," said Swift. "So we had to change some of the things we were doing to stay competitive."
Kevin Trantham didn't panic early on. Instead, he focused on staying consistent, a strategy that paid off.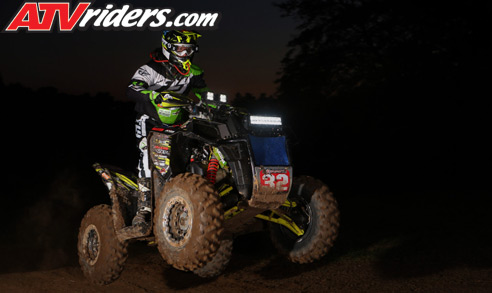 Team UXC Racing's Kevin Trantham
"When you get behind, you get to worrying a little, but we kept our heads down, kept charging, and the other teams had some issues," said Trantham. "So it worked in our favor this year. We had a good run with a great team and an awesome bike. This was really like a 10-hour GNCC race. We were just hammer down the whole time."
Bryan Hulsey was the newest member of the team. He actually prepared for the race by competing on the team bike at local Iowa races, as well as the Snowshoe GNCC.
Bryan Hulsey joined the UXC Racing Team at the Heartland Challenge
"I'm really thankful that Kevin and Michael asked me to do this with them," said Hulsey. "They're incredible riders and there was no way I could equal their times. Luckily, when I got on the bike, I didn't lose too much time. I raced the bike locally here and I raced it at Snowshoe. It helped a lot to know how the machine handles. It's an incredible machine; it goes so much faster than I thought it would."