2016 Durhamtown OffRoad Park
$25,000 Southern SxS National
Union Point, Georgia
November 25-26, 2016

Durhamtown Southern SXS National Pro Race Report
::Continued::
Mystik Lubricant's Mickey Thomas can't seem to get rid of his winning #44 Mystik Lubricants RZR. Earlier this season, he hadn't plan to compete in the entire WORCS Series, but did so well early in the season, he went on to finish second in Pro SXS Class. Just prior to this event, a sale fell through on the RZR, so he elected to make the short trip from his home in Cumming, GA for a run at the huge payout.
"It's funny because we were thinking about getting rid of this thing at the beginning of the year and here we are still racing it," said Thomas with a laugh. "I'm just super happy to be here and take the biggest cash prize in UTV racing. This is my home state, so everyone was able to come out and cheer me on."
Addict Racing / Joe Owen Motorsports' Payton Mills ran consistently in the short course race and shined in the night race to record a second overall to take home $5,000 in cash and prizes to finish out a great year of racing, which included finishing second in the WORCS SXS 1000 class championship.
Rugged Radio's Payton Mills was on top of his game in the 3 hour long night race as he went on to finish in the 2nd spot for 2nd Overall
"Honestly I was just trying to keep up with Mickey Thomas," said Mills. "The dust was pretty bad and the night course was something else. We did everything we could, the car held together, the pits were ready for us and I'm thankful for this. This season has been interesting."
Mike Taylor made the trip from Little Rock, AR to compete here and it paid off. He finished third overall and earned $3,000 in cash and prizes.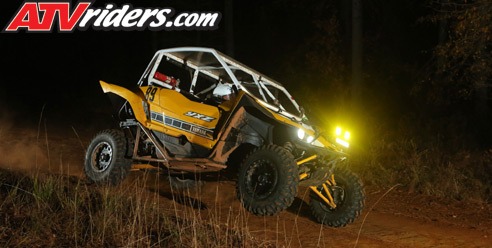 Mike Taylor scored the final pro podium spot in his Yamaha
"I didn't have a good day in the short course, so we had to re-evaluate for the night race," explained Taylor. "We made tire and suspension adjustments. I race around in Texas and the Oklahoma Gold Rush. The Yamaha is a better machine all around. You don't have to replace parts on it like you do on other rigs. It feels good to come all the way out here and run with these big guys."
Pope overcame difficulties experienced all weekend to finish fourth. His work definitely paid off.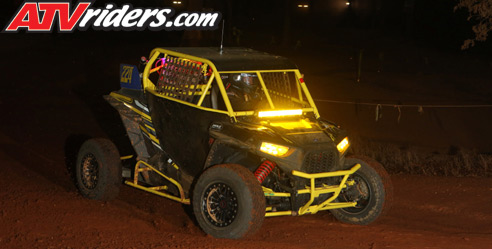 It was originally determined Lee Pope claimed the third spot, but after the awards, a scoring error was discovered, which moved Pope back to a fourth place finish
"We struggled on the short course and came out with a fourth and a fifth," said Pope. "The first three laps of the night race was the worst situation I've been in. Once the track ran in, the weather cooled off, the water came up and we got into a groove. I didn't think I was anywhere near the front. I had issues as soon as I came out of the trailer."