2016 Durhamtown OffRoad Park
$25,000 Southern SxS National
Union Point, Georgia
November 25-26, 2016

Johnny Greaves Takes $5,000 Outlaw SxS National Win
::Continued::
In the Outlaw race, Johnny Greaves was on top of his game in the short course race. So much so, that though he only ran a few laps of the night race before being sidelined with a suspension issue, he still took the overall win and the $5,000 prize. In fact, he had already left the facility before finding out about the victory.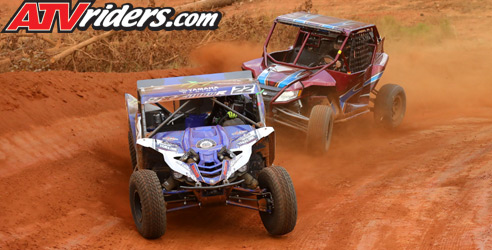 Johnny Greaves battled with NASCAR Racer, Tony Stewart, racing an Arctic Cat Wildcat in the Outlaw Short Course Motos
"We have these things set up for short course so that was a no-brainer," said Greaves. "We got our setup right, but we didn't have the proper tires. I got two clean laps in the night race. I was holding my own and was getting used to running in the dark, when I had a right-rear shock problem."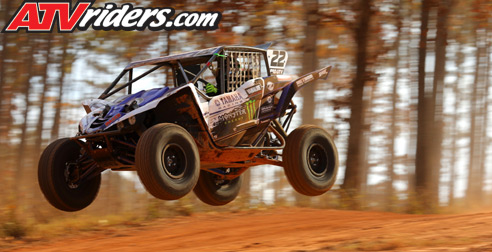 Johnny Greaves won both motos of the Short Course race, but he broke shortly into the night race, but he finished well enough to still claim the combined Outlaw Overall Win
Johnny Ford brought his Polaris RZR Turbo here just to have fun. He was looking for the win, but difficulties in the short course races placed him second overall.
Johnny Ford claimed the 2nd Spot in the Outlaw Class
"The event was fun," said Ford. "The dust was a little bit of a problem on the first few laps. We did terrible in the short course race, so it was nice to pull off a second."
Raceline's Maddie Cox was happy to be back in her own part of the country. The North Carolinian drove a naturally aspirated car to a third-place finish overall.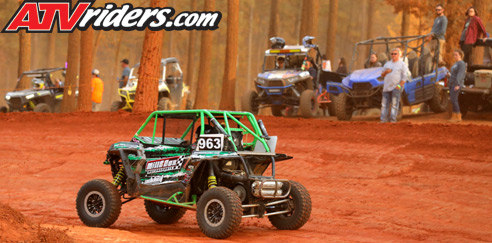 Maddie Cox had her family out to watch her earn podium finishes in both the Outlaw and Amateur class at the Southern SxS National
"I had problems in the GP race, so I had to make it up in the night race. The night race was pretty brutal. It was an adjustment for the first few laps, but then I had a blast. I've been extremely happy with this season. A lot of doors have opened for our team," explained Cox.