BEST IN THE DESERT Series
Bluewater SxS / UTV Race
October 13-14, 2012

Best in the Desert - Bluewater - ATV & SxS Race Report
Cognito Motorsports' Justin Lambert Wins - Cory Sappington & Mark Holz Podium
BEST IN THE DESERT
Bluewater SxS / UTV Links
Parker , AZ (10/16/2012) - Best in the Desert (BITD) Racing headed back to Parker, Arizona for the Bluewater Desert Challenge for the fourth round of SxS / UTV racing as the points battle heats up among the leaders. Cognito's Justin Lambert scored the overall win with Can-Am's Cory Sappington taking the second spot and Coastal Racing's Mark Holz secured the final spot on the podium with the win on Sunday.
The BITD Bluewater Desert Challenge race was a two day race with SxS racers doing three laps on the 25 mile long course on Saturday and again on Sunday with the combined times determining the overall winner, and despite the SxS race going out first on Saturday at 6:15AM, the track was already in rough shape from previous events in Parker, AZ, which meant for a brutal two hours of racing.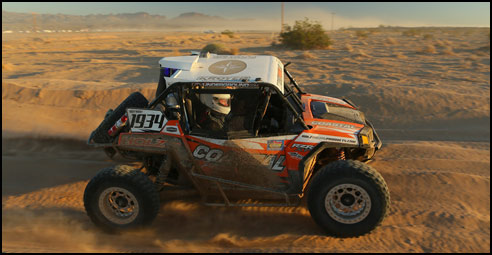 Coastal Racing's Mark Holz piloted their #1934 Polaris RZR XP 900 SxS / UTV to third overall at the Best in the Desert Bluewater in Parker, AZ
Coastal Racing's Mark Holz charged their way into the lead, but in the second lap, they snapped a rear end cv joint, and instead of pitting for repairs they tried to drive through it, and unfortunately, in the final lap, they snapped the other side, which forced them to drive the final mile of the race in reverse, which dropped them back to a sixth place finish and well out of the lead.
#1919 Jagged X's Brandon Schueler won Saturday's race by over seven minutes faster than teammate #1932 Matt Parks who finished second
The Jagged X Team were one of the only teams not to have any issues on Saturday as #1919 Brandon Schueler ran away with the win, and their time of 1:42:28 was over seven minutes faster than their teammate, #1932 Matt Parks in the second spot with both racers running in modified Polaris RZR XP 4 900 machines.
#1918 Justin Lambert piloted his Cognito Motorsports' Polaris RZR XP 4 900 to the final spot on the BITD Bluewater SxS Podium on Saturday
Finishing just over thirty seconds behind Parks was #1918 Justin Lambert in his Cognito Polaris RZR XP 4 900 for a Polaris podium sweep for Saturday.