BEST IN THE DESERT Series
Bluewater SxS / UTV Race
October 13-14, 2012

Best in the Desert - Bluewater - ATV & SxS Race Report
::Continued::
Can-Am's #1904 Cory Sappington finished in the fourth spot followed by BITD series points leader, Murray Motorsport's #1917 Jason Murray rounding out the top five.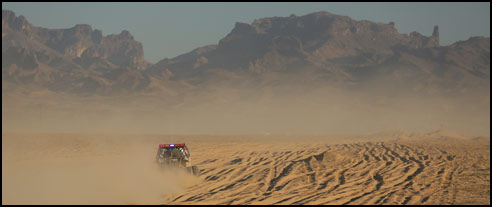 Despite grooming the track Saturday night, the Bluewater track was still rough for Sunday's SxS / UTV Race in Parker, AZ
After a full day of racing, the BITD crew graded the course Saturday night to help with the deep sand whoops, but despite their best efforts the track was worse on Sunday, which took its toll on the leaders and showed in the finish times.

#1932 Matt Parks took an early lead in the second lap on Sunday's race but a blown CVT belt made him fall back ending his chance for a podium spot
The Jagged X Team was untouchable on Saturday with a 1-2 finish, but Sunday was a different story with #1932 Matt Parks taking the early lead into the second lap, but a blown CVT belt ended his charge up front, and he wasn't alone as #1991 Brandon Schueler also suffered mechanical issues, which took the pair out of the running for the lead on Sunday and opened the door for Coastal / Holz Racing's #1934 Mark Holz to take over the lead.
Coastal / Holz Racing's Mark Holz grabbed the lead once Jagged X's Matt Parks blew a CVT belt on the second lap. Holz would lead the race until the check flag would drop
Coastal / Holz Racing Team took over the lead in the second lap and once out front, they ran away from the competition to secure the win with a time of 1:54:41, which was over eight minutes ahead of second place, but their finish time on Sunday would drop the Holz team back to the third overall spot on the weekend.