FLY ATV Supercross
Daytona International Speedway
Daytona, Florida
March 8, 2016

Chad Wienen Wins 2nd Annual Daytona ATV Supercross
Jeffrey Rastrelli & Thomas Brown Round Out ATV SX Podium
2016 ATV SX Racing
Daytona Speedway - Links
Daytona, FL (3/9/2016) - The ATV Motocross National Championship (ATVMX), presented by CST Tires, an AMA National Championship, kicked off its 2016 season yesterday, March 8, with the Second Annual FLY Racing ATV Supercross (ATVSX). The world's best four-wheeled ATV racers took to the hallowed grounds of the Daytona International Speedway (DIS) as the quest for the 2016 National Championship began.

With the annual Daytona Bike Week festivities in full swing the infield grandstands were full of race enthusiasts eager to watch the defending champion return to his winning ways. After claiming the ATVriders.com Fastest Qualifier Award, Wienen Motorsports/Yamaha/Maxxis/SSi Decals/Walsh Racecraft/FLY Racing's Chad Wienen was able to build his confidence for the main event.
The AMA Pro ATV class put on a great show for the fans in Daytona
When the heat races got underway, Maxxis/Elka/Liquid Wrench's Joel Hetrick and Wienen emerged with the wins, with JB Racing/Root River Racing/Gold Speed Tires' Jeffrey Rastrelli taking the win in the last chance qualifier (LCQ).
When the gate dropped it was Maxxis/FLY Racing/Baldwin Motorsports' John Natalie who led the way through the first turn which earned him the $100 Bell Helmets Holeshot Award, but he was closely followed by Wienen and Hetrick.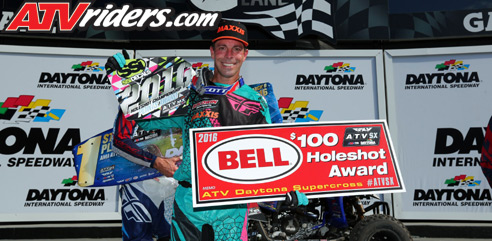 John Natalie Jr claimed the $100 Bell Helmets Holeshot Award
Wienen quickly got to work and passed Natalie for the lead, leaving a battle behind him for second place. Unfortunately, a race mistake would end up taking Hetrick out of the race after landing on Natalie's back fender. That allowed Brown and Rastrelli to move up a spot and set their sights on passing Natalie. The veteran Natalie would not flinch and held his line making it tough for Brown to pass.
Eventually Brown was able to get around Natalie, but by that time Rastrelli had gained valuable seconds on Brown. The Florida native had a massive crowd section that erupted every time he took to the triple beside the grand stands. With only a few laps to go, Rastelli made a run on Brown that took him to second place.
"I was a little disappointed when I crossed the line," said Brown. "I wanted to win, but my main goal was to be on the box. I'm super stoked to leave round one with solid points and stand here in Daytona's victory lane."
When the checkered flag was thrown, it would be Wienen crossing the line first and taking home the esteemed ATVSX win. With the ATVSX serving as the opening race of the 2016 ATVMX season, Wienen seized early control of the AMA Pro ATV point standings.
Chad Wienen took home the esteemed win at 2nd Annual Daytona ATV SX
"It was a great day here at Daytona," said Wienen. "The starts were the key to a good finish here, and we did just that. I was able to make quick work on Natalie and that's because I felt so solid on my Yamaha. This win means so much coming from this amazing place!"
Rastrelli's runner-up finish was a great way to get his 2016 season underway, where he says this podium finish was much needed.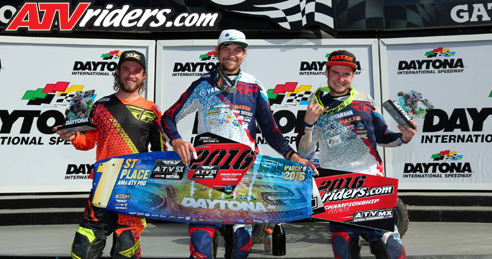 FLY ATV SX Pro Podium (left to right)
Jeffrey Rastrelli (2nd), Chad Wienen (1st), Thomas Brown (3rd)
"I've struggled my whole pro career and it's unbelievable to have a ride like this, and to be able to hear the crowd cheering every time I went by on the rhythm section," said Rastrelli. "I've now got the confidence that I can win heading into round two."
The 2016 ATV Motocross National Championship resumes with a return to the traditional motocross format on Saturday, April 9 at the popular Underground MX in Kemp, Texas.