FLY ATV Supercross
Daytona International Speedway
Daytona, Florida
March 8, 2016

Chad Wienen Dominates Daytona ATV Supercross
2016 Daytona ATV Supercross Pro Race Report
2016 ATV SX Racing
Daytona Speedway - Links
Daytona, FL (3/8/2016) "Dominate" is a word that is often thrown around wantonly in the world of racing. There was nothing wanton about how Chad Wienen performed in the Fly Racing ATV Supercross at Dayona International Speedway, which was also opening Round of the 2016 AMA ATV National Championship presented by CST Tires for the Pro racers only.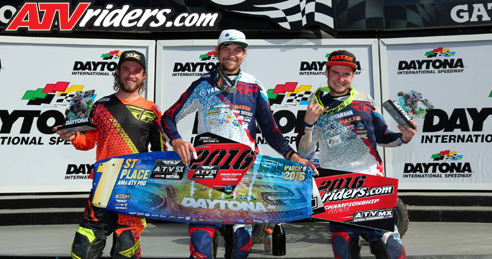 FLY ATV SX Pro Podium (left to right)
Jeffrey Rastrelli (2nd), Chad Wienen (1st), Thomas Brown (3rd)
In fact, Wienen Motorsports/Yamaha's Chad Wienen proved he's ready to earn is fifth consecutive title by taking the ATVRiders.com fastest qualifier prize, winning his heat and literally running away with the main at the Daytona ATV SX. Goldspeed Tire's Jeffrey Rastrelli finished second, ahead of Maxxis' Thomas Brown, John Natalie Jr and David Haagsma.
Under partly cloudy skies and with temperatures in the 80s, the event was certain to entertain, and it definitely did. After crashing in his heat while leading, Baldwin Motorsports' Natalie's eighth gate pick didn't seem to matter as he snagged the holeshot and set in to lead the first of the fifteen-lap contest. Wienen, however, was not going to be denied and he took the lead and ran away from the field.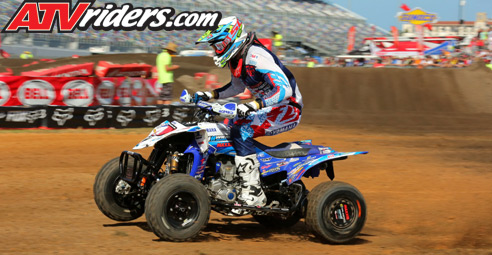 Walsh Racecraft's Chad Wienen made the early pass on John Natalie jr to take over the lead & quickly began building a lead on the pack
"The starts were key today," explained Wienen. "I got the holeshot in my heat, and I was second in the main. I ran high around John and took off from there. We had an awesome setup today. I can't say enough about how well we rode today.
In the final laps of the Daytona ATVSX, Chad Wienen just cruised around the track to victory
"I hit my lines cleanly and I was still pulling away," added Wienen. "I just felt like I was on another level today. I was getting a little leery about how smooth the track was early on, but it really came around in the main. We're full steam ahead. We have a great group of people behind us this year. We're here to get the job done and enjoy it afterwards."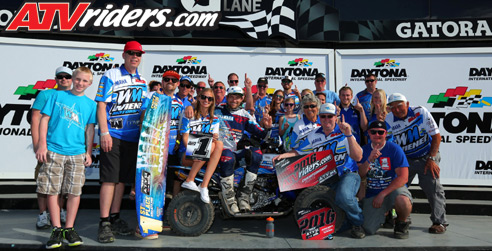 Chad Wienen celebrated his Daytona ATV SX Win with his friends & family on the Daytona's Winners Circle