2016 AMA ATV Motocross
Round #12 Edge of Summer
Mt Pleasant, MI
September 9, 2016

Joel Hetrick Wins, Chad Wienen Clinches Championship
Joel Hetrick Takes 8th Win, Chad Wienen Clinches 5th Championship
Mt Pleasant, MI (9/9/2016) – The twelfth and final round of the 2016 Pro AMA ATV Motocross National Championship took place at the Soaring Eagle Resort and Casino in Mount Pleasant, MI where Joel Hetrick took his eighth overall win and Chad Wienen was crowned the 2016 Pro National ATV MX Champion for the fifth straight time.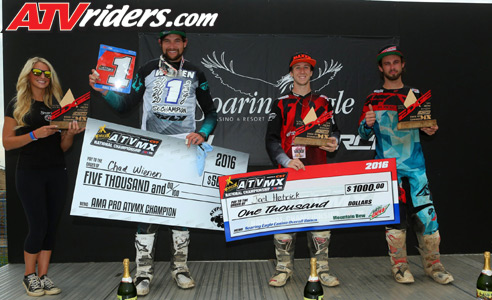 Edge of Summer - Round 12 - Pro ATV Motocross Podium (left to right)
Chad Wienen (2nd), Joel Hetrick (1st), Jeffrey Rastrelli(3rd)
Joel Hetrick dominated the Soaring Eagle event with 1-1 moto finishes for first overall. This was Hetrick's eight win of the season.
DASA Racing's Joel Hetrick grabbed both moto holeshot, which wrapped up the SSi Decals Holeshot Award Championship
"I got both holeshots, both moto wins, and locked up the SSI Decals holeshot award," said Hetrick, who also tied for the ATVRiders.com fastest qualifier award.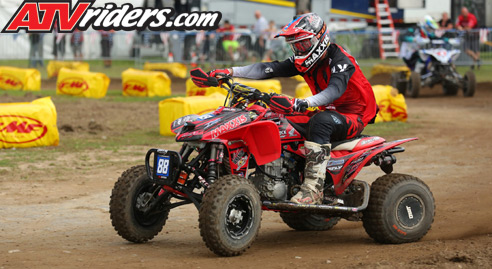 Maxxis' Joel Hetrick was on his game as he claimed both moto wins at the Pro ATV Motocross Season Finale
Hetrick finished out the season just eight points down from winning the national championship. "Coming in here I knew it would be tough to win the championship, but we are going to be charging for it next year. I am excited for it. I want to thank DASA for pulling me off the start, Maxxis tires that hooked up great, Ian Harris at SSI Decals for the holeshot award, and Harlen Foley from ATVRiders.com for putting up the fastest qualifier award," stated Hetrick.
ELKA's Joel Hetrick took the checkered flag for his 8th Overall Win of the season, but finished 8 points behind Winenen for the Championship
Chad Wienen clinched his fifth consecutive national championship with a second place overall finish on the weekend. Wienen had a tough start in the first moto, but put his head down and worked his way back up to third before the moto ended. "It was a tough start to the day, but we played it smart and played it cool," said Wienen.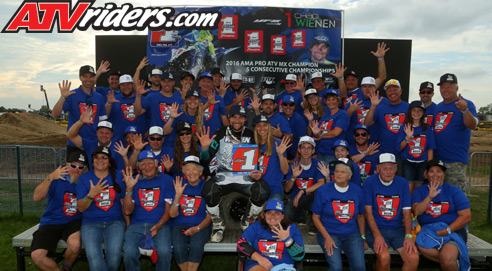 Maxxis' #1 Chad Wienen clinched his 5th Straight Pro ATV Motocross Championship